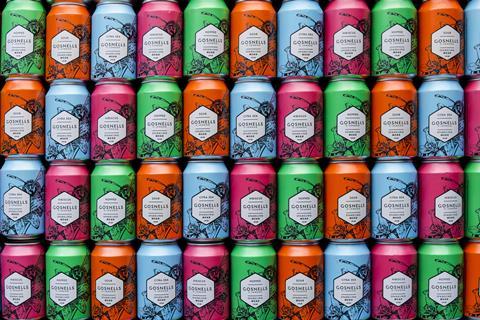 Urban meadery Gosnells is to rebadge its sparkling honey-based drinks as 'Nectars'.
The move to rebrand its meads would help Gosnells tap into and revive the cider category, according to founder Tom Gosnell.
The category – worth £1.2bn in grocery [NIQ 52 we 9 September] – was "stagnant" and lacked "the innovation and premiumisation seen in other alcohol categories", Gosnell said.
"Mass-produced ciders are often laden with refined sugars and synthetic additives, which are out of step with the contemporary consumer's desires," he said.
Gosnells' range of Nectars, he added, could "fill this void" by offering drinkers "an innovative range of low-sugar, gluten-free beverages that don't compromise on flavour".
The brand's session-strength meads – typically those under 6% abv – have already been rebadged as Nectars in the on-trade. Its cans will start to roll out in the new year.
Gosnells' higher abv and still drinks would retain the mead badge to clearly differentiate them from the products it offered on draught and in 440ml cans, Gosnell said.
"The way that people use these drinks is different," he said. "Our fizzy pints and tins of Nectar are designed to be consumed like a beer or cider. Our more traditional meads are more like wines."
Early feedback to the change from the on-trade had been "really positive", helping to improve rate of sale and understanding of what the products were, he added.
The move came as Gosnells announced a £500,000 equity raise.
The south London drinks company said it would use the funds – half of which have already been committed by existing shareholders – to expand in the on-trade, and build a second bar to go alongside its inaugural venue in Bermondsey.
Gosnells drinks are stocked in venues including Daisy Green, Cubitt House, Drake & Morgan and Brewdog, as well as independent pubs and restaurants across London.
Gosnell said overfunding would enable the mead-maker to ramp up its efforts in the off-trade, which presently only accounts for 25% of sales.
"We'd love to get a grocery listing but it's really competitive, especially in the cider space," he said. "Right now, our aim is to build awareness in the on-trade to the point where supermarkets are clamouring for it."