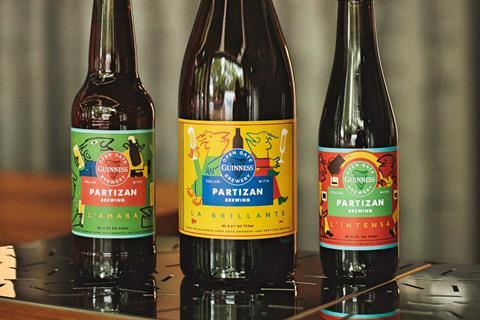 Guinness' Open Gate Brewery and London craft brewer Partizan have teamed up to produce three limited-edition beers.
The two brands' respective head brewers, Peter Simpson and Andy Smith, worked with mixologist Alex Kratena, who runs London bar Tayēr + Elementary, to produce the trio, which are billed as being "inspired by the aperitivo trend" in European food and drink culture.
They are: La Brillante (5.6% abv) is a 'Champagne-style' pilsner aged in Oloroso sherry barrels bottled in 700ml corked Champagne bottles, l'Intensa (8.2%), a dark botanical ale, and L'Amara (5.9%), a 'botanical-infused' Saison.
Their labels feature designs by illustrator Alec Doherty, who has previously designed bottles for Partizan.
"We've been working on these three beers for nearly year," said Simpson. "[Smith] and myself ventured to Northern Italy, experimenting on new recipes by dissecting classic formulas that have remained unchanged throughout the centuries.
"We've really pushed the boundaries and created the perfect summer refreshment with these three aperitif-style beers."
It was "a fantastic opportunity for us to work with an incredibly well-known brewery from a very different part of the industry," added Smith.
"We learned a great deal and made connections we'd not envisaged. Overall it was an invaluable experience, made possible - and very enjoyable - by enthusiastic engagement on both sides."
The trio will be available through distributor Eebria and sold on-site at the Open Gate Brewery, Partizan's London base and Tayēr + Elementary.