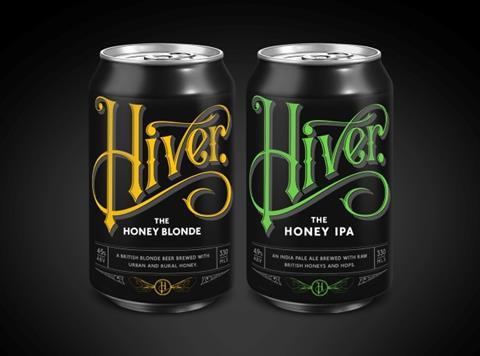 Honey-infused craft beer brand Hiver is making its debut into cans.
New 330ml cans of its Honey Blonde (4.5% abv) and Honey IPA (4.9%) brews hit the on and off-trade this week (rsp: £2.80).
The move would open up "wider F&B opportunities" at home and abroad given cans made up some 25% of all craft beer sales, said Hiver founder Hannah Rhodes. "Since starting Hiver five years ago with a beer that was so original and different to the norm, it's amazing to recognise that the promise of an opportunity for a British and artisanal beer has translated to nationwide distribution with a depth of quality customers."
It comes as Hiver was recently accepted onto the Mayor's International Business Programme, which offers mentoring, expert advice and opportunities for "carefully selected, high-growth London businesses".
Hiver is also set to launch a four-strong range of seasonal brews each available for a limited time only in cans next year.
The brewer mounted a £350k crowdfunding push last year, but abandoned the drive shortly after to pursue private investment.