The number of Brits looking to curb their alcohol intake has surged in the past year, exclusive research for The Grocer reveals. Forty one per cent now say they're actively trying to drink less, up from 33% a year ago [Harris Interactive]. So why are supermarket sales of most of the major drinks sectors still in growth?
Video: Is Britain still a nation of binge drinkers?
The extent of the booze sector's resilience was made clear in our 2016 Top Products Survey, which revealed that only cider and RTDs had declined over the course of last year, in spite of the growing number of people looking to moderate their drinking. Volume sales of lager grew 0.3%, ale 4.7%, spirits 2.3%, and sparkling wine surged a whopping 14.7% [Nielsen 8 October 2016].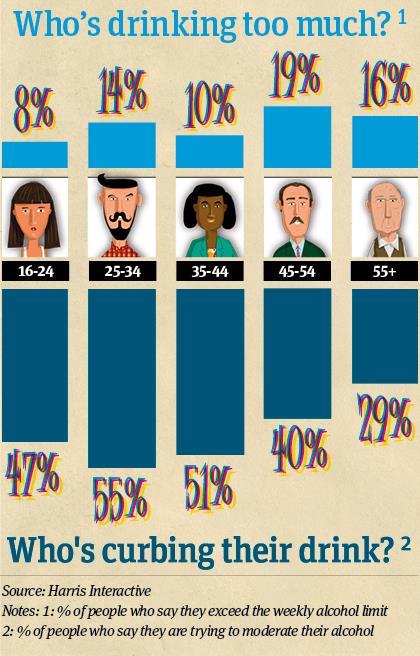 But the fact remains that growing numbers are trying to drink less. "It seems media messages around ill health linked to excessive alcohol consumption are cutting through," says Lucia Juliano, head of research at Harris Interactive, which polled 1,004 shoppers on our behalf. A crucial factor here is that more Brits are choosing to entertain, and therefore drink, at home rather than in pubs and restaurants. Twenty six per cent of Brits say that on balance they drink more inside the home than out, compared with the 13% who drink more outside the home.
"Men are significantly more likely than women to say they are trying to moderate alcohol (48% of men vs 35% women). "What is also apparent is that the over-45s are most likely to exceed alcohol guidelines. but they are least likely to say they are cutting down. The 25 to 34-year-old and 35 to 44-year-old age groups are most likely to be moderating.
"There's a clear attitudinal difference between the generations, with 67% of under-25s drinking less than the guidelines, contrasting starkly with the over-45s who are mostly likely to be over-consuming alcohol. Maybe stereotypes of young people binge drinking at the weekend need to be swapped with images of the over-45s regularly downing bottles of wine at home."
In fact, 16 to 24-year-olds are just as likely to consume their weekly recommended limit in one go on a weekly basis as those aged 45 to 54 years old, with 16% of each age group claiming to do so. The most likely to do so are 25 to 34-year-olds, 19% of whom admit to it.
Younger consumers maybe trying to drink less, but that doesn't necessarily mean they're spending less. Quite the opposite; drinkers aged between 25 and 34 are by far the most likely group to believe that certain types of drinks are worth paying more for because you get a better quality product.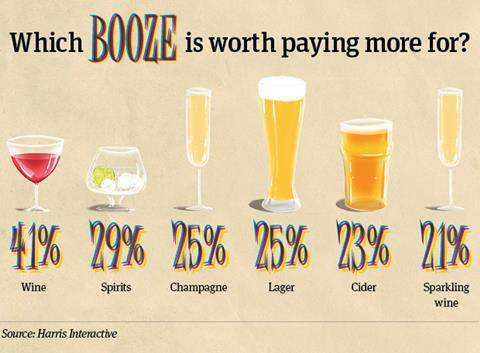 Particularly in sectors such as spirits and lager, which have seen an explosion in so-called 'craft' brands that seek to justify a hefty premium by playing on their quality, heritage and craftmanship. Thirty-five per cent of 25 to 34-year-olds believe spirits are worth paying more for, versus 23% of over 55-year-olds, for example.
"Consumers are inclined, more than ever, to purchase premium spirits to enjoy in their own home, taking some of the consumption occasions away from the on-trade," Barcardi Brown-Forman Brands MD Amanda Almond told The Grocer last summer. "Consumers are drinking quality over quantity."
This applies to most booze sectors. In the beer and cider aisles, mainstream brewers have suffered big losses as the supermarkets have cut shelf space for standard tipples and increased the amount of space dedicated to more premium, craft lines.
Carlsberg, for example, was delisted by Tesco in 2015. A year later the brand had lost more than £70m in sales. The brand's Danish owner has since relaunched Carlsberg and embarked on a marketing campaign focusing on the pricier export version while increasing its roster of craft beers and ciders, which includes Shed Head Pale Ale, Bad Apple and Grimbergen Blonde
Heineken has also fallen foul of Tesco's range changes, losing more than half its listings in a range review earlier this year. Amstel, Birra Moretti, Sol, Tiger Beer and Kingfisher were axed entirely, while many others saw their ranges cut to just one or two SKUs.
Innovation station
Boozy Britain continues after this rundown of the latest launches in alcohol
1. Jack Daniel's Cider: Jack made moves on the cider category in April with Tennessee Cider . The 5.5% abv drink, with a black and white label, closely resembles JD's original whiskey.
2. Absolut Mixed: Absolut debuted in the RTD market with two 5% abv premixes – Cloudberry & Apple and Blueberry & Lime. They were designed to "diversify and premiumise" the category.
3. Birra Moretti Le Regionali: Heineken extended its range of Birra Moretti with alla Toscana and alla Siciliana, which pay tribute to flavours typically found in Tuscany and Sicily.
4. Desperados Dos: Later evening drinking was the focus of Heineken's Desperados Dos launch . The 7% abv beer, in a 250ml bottle, is flavoured with light and dark tequila.
5. Gigglewater Secco: Named after 1920s US slang for booze, Gigglewater rolled out Frizzante Secco in 20cl cans and a 75cl bottle. The drink is aimed at millennials.
6. Baileys Iced Coffee: Iced coffee got more grown up as Baileys unveiled its Mocha and Latte RTDs . They blend Arabica and Robusta coffee with milk, Baileys, and cocoa for the mocha.
7. Bud Light: Bud Light made its UK comeback 16 years after it stopped production. AB InBev says the beer meets younger drinkers' functional needs, but not everyone is convinced .
8. Barefoot Rosé Pinot Grigio: As flavourful as it is affordable, that's how E&J Gallo describes its Barefoot Rosé Pinot Grigio aimed at younger drinkers.
9. Bulmers Orchard Pioneers: As retailers strip back cider categories, Bulmers launched two artisanal ciders to "bridge the gap" between mainstream and premium tipples.
10. Acai Liqueur: Ethically produced spirits brand Fair expanded its portfolio with the fashionable acai berry, handpicked from the Amazon rainforests.
The brewer's response has been to focus on premium, differentiated products. Recent months have seen a slew of new launches including Birra Moretti Le Regionali, a duo of premium lagers said to be inspired by the brewing traditions of Sicily and Tuscany (but brewed in Britain), and Bulmers Orchard Pioneers, ciders aimed at older, more discerning drinkers.
"There's no doubting the craft revolution has been critical to top line beer success: sales are up 30% driven by new shoppers tapping long-term trends towards new tastes, exploration and discovery of beer styles, especially on lower energy occasions," says Heineken new beer brands unit director Sam Fielding.
"These shoppers tend to be less price sensitive, and that's reflected in the average price, which is at an index of 175 versus total beer. And there's significant growth in craft still to come. Our research indicates that of the 17.6 million adult beer buyers in the UK, 75% are yet to try craft beer."
To try to woo that remaining three-quarters, Heineken has launched the Maltsmiths Brewing range, which currently comprises two products: a Bavarian-style Pilsner and an American-style IPA. Heineken is also distributing Californian craft IPA Lagunitas IPA.
Cheap fizz
Drinkers are much more price sensitive when it comes to the fastest growing booze sector: sparkling wine. Sales surged 15.3% on volumes up 18.7% last year [Kantar], thanks largely to booming sales of cheap Italian prosecco, sales of which jumped by nearly a third off the back of a 4.7% fall in average price. Meanwhile, sales of cava fell 6.5% on volumes down 4.5%.
Lower prices and the growing availability of ready chilled prosecco in the supers means drinkers are switching from other sectors, such as RTDs and flavoured cider. "The lower price point of sparkling wine, driven largely by the use of prosecco as a footfall driver, has undoubtedly broken down barriers to shifting," Aldi joint MD of corporate buying Tony Baines told The Grocer in April.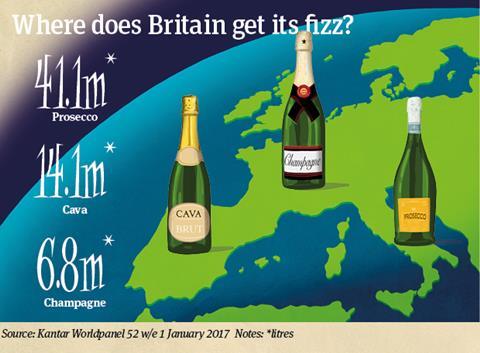 Freixenet chief marketing officer Martina Rothe Obregon agrees. "Over the past few years there has been a shift in paradigms in the way consumers are celebrating and, as a result, a major thing has happened in sparkling wine," she says. "We've seen 44% growth over the past five years across the category including champagne, cava and prosecco."
Can the Spanish do prosecco?
Still it's prosecco that's king. The supermarkets sold more than 41 million litres of the Italian fizz last year (see above); that's more than double their combeind sales of cava and champagne. Does that explain why Spanish cava brand Freixenet has launched an Italian prosecco?
Creative challenge: Can premixes go posh?
Premixed drinks have an image problem. Our research shows that only 7% of shoppers think it's worth paying more for a can of G&T or whisky & cola. So what could be done to get drinkers to splash out a little more on a premixed drink?
Branding agency PB Creative reckons they have the answer: Spirit 'n Mixer, a deconstructed RTD, which gives drinkers greater flexibility over the strength of their drink. "There's something disappointing about mixers in cans," says Ben Lambert, PB Creative director. "Consumers are told how much spirit and mixer they can have, there's no flexibility."
Spirit 'n Mixer changes that. Each comes with a double shot of alcohol and the option to put as much, or as little, mixer in as you like to create the perfect serve. The core range consists of Rum 'n Cola, Gin 'n Tonic and Vodka 'n Orange – served in a lightweight PET glass, with a 200ml slimline aluminium can of mixer and 50ml of spirit in an injection-moulded clear container.
"Controlling the serve is key," adds Lambert. "Whether you're on a train, or at a festival, there's something quite nice about pouring the spirit and mixer together. It feels indulgent."
What's more, the social occasions they are designed to be enjoyed at – beach parties, festivals and sporting events – lend themselves to further sharing. A mix 'n match of mixers, if you will. "The nice thing is this does allow those selling it to offer ice and a stirrer. This elevates the ritual again because you have a vessel to put it in whereas canned premixed drinks come straight out of the fridge," adds Lambert. Suddenly the festival cider doesn't seem so great.
If that wasn't indulgent enough, PB Creative has taken things one step further with Prosecco On The Go: the Bellini Edition featuring Peach, Grapefruit and Blood Orange variants. The premium range includes an aluminium bottle of prosecco and an injection-moulded tumbler with a donut-shaped cavity that holds the pure fruit juice mixer. Drinkers simply peel the seal, pour and enjoy.
"We built on the classic Bellini cocktail for this one but the format and aluminium bottle visually challenges shoppers to expect a bit more," says Lambert. "The resealable bottle also makes it feel less immediate; a consumer might indulge a bit more with this."
---
Thanks to

Harris Interactive, a full-service digital consultative custom market research agency, polled more than 2,000 consumers for The Grocer for this article.
PB Creative delivers brand clarity through packaging design, de-coding a brand's personality into simple solutions, while reinforcing a strong emotional connection with the consumer. Their approach seamlessly combines brand strategy, structural and graphic design.