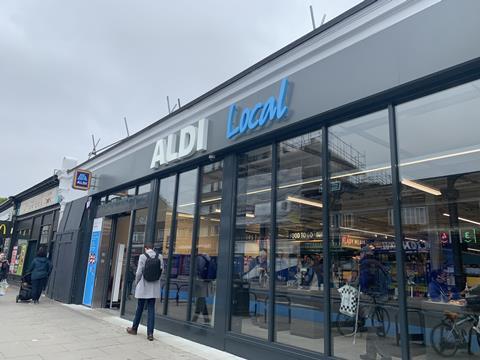 Aldi Local, the discounter's new sub-brand for smaller-format urban stores, is 3% more expensive than its larger branches, analysis by The Grocer has found.
In a basket of 20 products, nine items were more expensive at Aldi Local than at a larger store, while the other 11 were the same price.
Aldi Local debuted with a new store in Balham, South London, two weeks ago.
It is designed to "help shoppers distinguish between its smaller city stores in London and the conventional-sized Aldis," according to the discounter. The name could be rolled out to its four other London stores, in Tooting, Archway, Kingston and Kilburn.
More expensive lines included a large whole chicken, at £4.19 in Aldi Local compared with £3.99 in the larger Streatham store, a 5% price hike. A 400g Specially Selected cottage pie was £2.69 vs £2.85, making the Local sub-brand 5.9% more expensive. Snackrite tortilla chips (200g) were 5.3% more expensive at Aldi Local, at 79p compared with 75p.
An Aldi spokesman acknowledged the price difference. "As part of the Aldi Local trial taking place in the Balham store there is a slight difference in price on certain lines compared to Aldi's existing high street and standard-sized stores," he said.
"The prices in the Balham store are still notably cheaper than nearby supermarkets and are checked every day to make sure customers always receive the best value for money when shopping at Aldi."
Last week, the spokesman said it was "not a move into convenience retailing" because "Balham is 6,000 sq ft in size, more than twice the size of a typical convenience store".
The store is about half the size of a typical Aldi store and, like the other four smaller-format London branches, stocks a slimmed-down range, with 1,500 products instead of 1,800 in a full-sized Aldi. Lines not stocked at Aldi Local include the general merchandise Specialbuys and bigger pack sizes.
The Aldi Local was still significantly cheaper than the nearest major supermarket, Sainsbury's in Balham High Road, as well as a Sainsbury's Local in neighbouring Tooting. On a basket of 10 comparable own-label items, a standard Sainsbury's was 17.7% pricier than Aldi Local while the Sainsbury's Local was 39.8% more expensive.
The findings come after the CMA played down the competition presented by Lidl and Aldi in its provisional findings on the proposed Sainsbury's-Asda merger.
Sainsbury's and Asda claimed the rise of discounters had changed the competitive landscape and was one of the reasons the megadeal should be allowed through. But the CMA decided that though Lidl and Aldi were a competitive constraint, their threat was "materially weaker" than that provided by the other members of the big four.