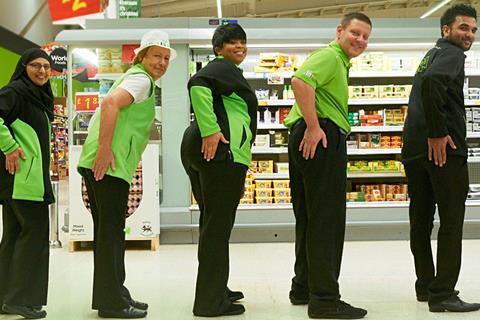 Asda is launching a £100m investment in lower prices, which will also see the return of its 'pocket tap' TV ads.
The 'Asda Price' campaign will launch a new rollback event starting on Friday, which Asda said would see prices slashed on thousands of own label and branded products across food, baby, toys and household products.
Asda CEO Roger Burnley said the move, which comes with US owner Walmart in talks with private equity investors about a sale of the retailer, was aimed at helping shoppers hit by the economic impact of the coronavirus.
It is a further sign of a looming price war between the supermarkets, with Tesco having already slashed prices on hundreds of branded products as it embarks on the next phase of its everyday low pricing push.
Asda's new prices include Comfort Fabric Conditioner 1.16l reduced from £2.40 to £1.75; Colgate Toothpaste 75ml from £3.95 to £1.90; Kellogg's Coco Pops 295g from £1.99 to £1.25; and Asda Butchers Selection Pork Leg from £4.97/kg to £3.97/kg.
"We know that saving money is more important than ever for our customers, which is why we've invested in rolling back the price of thousands of products this September and will keep doing so through the rest of 2020 and beyond," said Burnley.
The pocket tap first featured in Asda's adverts in 1977 and has previously featured the likes of Julie Walters, Richard Beckinsale and Michael Owen.
The new ad campaign features an updated Asda Price jingle and stars a real-life family – Sunny, Amy and their three children.
"Saving customers money has been our DNA for over 50 years and shoppers have always known and trusted that Asda Price means great value – as well as being an icon that makes them smile – and so we thought the time was right to bring it back," added Burnley.
Anna-Maree Shaw, chief customer officer at Asda, added: "We are so excited to be bringing Asda Price and the pocket tap back, but with a more modern look and feel. Sunny is a real family man – a fun-loving savvy shopper that is always on the hunt for a bargain, like so many of our customers. It was so much fun filming with him and his gorgeous family, and we hope our customers love them as much as we do!"
The new advert will launch on ITV on Friday (4 September) during an ad break in Lorraine, before appearing on screens again later that evening during Soccer Aid.