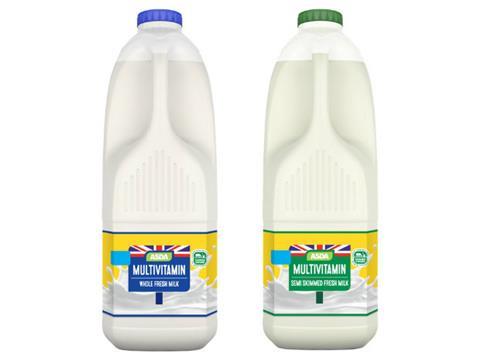 Shoppers appear to have shunned Asda's new multivitamin milk range, leading the retailer to ditch the products less than five months after they were launched.

Asda unveiled the Arla-made milks in whole and semi-skimmed variants to great fanfare in January, in a move to replace the vitamin D fortified milk it launched in January 2017.

The new multivitamin range was enriched with added vitamin D, vitamin A and iron, with Asda stating at launch it would help "customers and their families get more essential vitamins into their diets in a hassle-free way" and encourage healthier lifestyles.
The milks contained 88% of an adult's vitamin D recommended daily intake per 200ml, 76% of Vitamin B12 and 42% of iodine. Added vitamin A was intended to support immune function alongside iron to help combat fatigue and tiredness, Asda said.

But while being pitched as "perfect to use every day on cereals, in tea and coffee, or as a glass on its own", the supermarket delisted the products on 13 May [Brand View], after they spent more than two-thirds of their time on sale on promotion.

Confirming it had pulled the drinks, an Asda spokesman said: "We are always making choices based on what our customers want to buy to help ensure we offer a range of products that meets their demand."