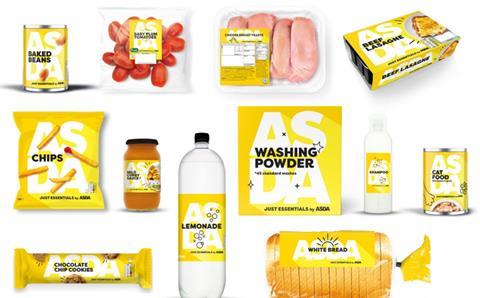 Asda's like-for-like sales fell 2.9% in quarter four of 2021 compared with a tough comparative period the previous year, in the UK's second national lockdown.
They were nevertheless up 2.6% compared with pre-pandemic levels on a two-year basis, according to a trading update covering both the quarter and full year to 31 December 2021.
Total sales for the year were up 0.5% to £20.4bn and up 0.6% on a like-for-like basis, driven by a strong performance in home and outdoor and a return to growth in clothing after pandemic-related disruption of 2020.
Like-for-like sales excluding fuel were up 0.6% in 2021 compared with 2020 and up 4.3% on a two-year basis.
However, like-for-like grocery sales were down 0.5% in 2021 compared with 2020, when more meals were consumed at home in lockdowns. On a two-year basis, like-for-like grocery sales were up 4.6%.
Operating profit in 2021 was up 42% to £693.1m, predominantly due to a reduction in Covid-related costs compared with the previous year, including hiring of 22,000 temporary staff.
Online sales were down 5% in 2021 as lockdown restrictions eased, but demand remains significantly higher than pre-pandemic levels with sales up 75% on 2019, according to the update. Asda hit its target of creating one million delivery slots in the week preceding Christmas, helping it regain its position as the UK's second-largest online grocer by market share, it said.
Like other supermarkets, Asda enjoyed a boost for sales of premium lines as customers indulged more to celebrate the lockdonwn-free festive period at the end of 2021. Sales of its Extra Special range were up 28% in quarter four compared with the previous year.
In partnership with EG, the supermarket opened 31 Asda On the Move convenience stores on forecourts during 2021.
It had also invested more than £10m during the last 12 months in improving the products, packaging and customer experience in Asda's produce department, it said, including the appointment of 250 specialist green grocers in stores.
As revealed by The Grocer last week, Asda is also launching a new value range called Just Essentials, consisting of 300 products, about 50% more than its existing Smart Price range. Just Essentials are due to arrive in stores in May and will eventually replace the Smart Price range, according to the supermarket.
The new range will span categories including fresh meat, fish and poultry, bakery, frozen and cupboard staples. It will also include more than 20 essential household and toiletry products such as washing-up liquid, toilet roll, laundry powder, shampoo and conditioner.
Asda said it would stock the full range in all 581 food stores, as well as online, and continue to sell Smart Price products until they were replaced by Just Essentials.
It follows criticism of Asda by food blogger Jack Monroe for reducing availability of its Smart Price range, including removing products from its online range.
The supermarket is also facing criticism from suppliers who claim it is trying to introduce the new Just Essentials range in an unrealistically short time frame.
"We understand that customers are increasingly worried about the cost of living and want help to keep their grocery bills in check, whilst still being able to buy healthy and nutritious food for their families," said Asda co-owner Mohsin Issa.
"Our new 'Just Essentials' range has been specifically designed with this in mind, combining our lowest prices with a much larger and more diverse range of great-value products to meet all household needs."
He added: "When we bought Asda we were clear that we wanted to grow this great business and our ambition is for Asda to regain its position as the UK's second-largest grocery retailer.
"We are pleased with the progress made in the six months since we officially took over the business and are confident we can achieve this long-term ambition by providing customers with exceptional value wherever and however they choose to shop with us."