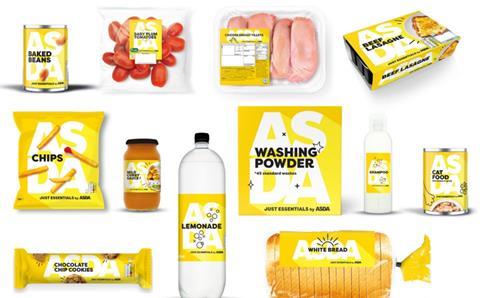 Asda has revealed its strongest quarterly performance since the start of 2021, claiming its moves to become more competitive on price have started to pay off.
The supermarket recorded a 4.7% year-on-year increase in like-for-like sales in the third quarter of 2022, while total revenues excluding fuel were £5.2bn.
Asda said its Just Essentials range, which launched in May, had attracted 400,000 new shoppers from rival supermarkets, and promised to continue helping hard-up shoppers hit by the cost of living crisis. It said the range – so far consisting of 141 products – had been a key driver, with around 70% of spend on the range from new customers.
In April, Asda also launched a 'Dropped & Locked' pricing initiative, with 250 products frozen in price.
The supermarket said it believed more tough economic times lay ahead and vowed to continue moves to help shoppers.
The latest Asda Income Tracker showed the average UK household was £432 worse off across the quarter compared to a year earlier.
In another sign of the tough climate, Asda said it was on course to serve one million 'Kids eat for £1' meals in its cafés before the end of the year.
"The financial pressures on families across the UK are worsening and they are looking to us for help," said Asda co-owner Mohsin Issa.
"Asda has a long-standing reputation for providing customers with outstanding value and it's more important than ever that we deliver on this for them.
"We're absolutely committed to ensuring Asda remains the best-value traditional supermarket – while introducing new value initiatives such as Asda Rewards that can make an immediate difference to customer budgets."