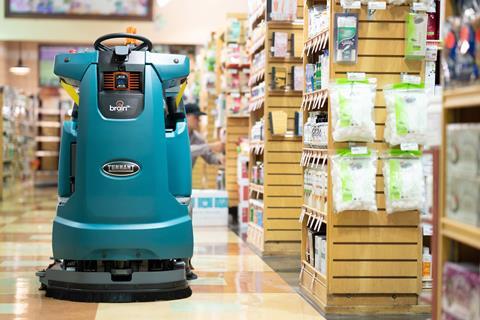 Asda is trialling the use of fully autonomous floor cleaning robots at a handful of its stores.
It is understood the robots, which roam the aisles and scrub floors without human oversight, are in operation during opening hours at three stores.
The cleaning bots are based on machines built by Tennant Company, which are fitted with artificial intelligence systems from US firm Brain Corp. The robots retrace routes they are trained on by staff and are kitted out with safety sensors. This allows them to clean without a human operator, and navigate the store without bumping into staff or shoppers.
"Not only will these scrubbers be commonplace in grocery stores, but they will become known as a practical and essential part of retail cleaning programmes, especially as cleaning challenges have increased in the wake of the ongoing pandemic," Tennant said of the robots.
Brain Corp established European operation less than a year ago, and has since "seen strong interest across the UK from a wide variety of customers" its Europe VP Michel Spruijt told The Grocer.
"Clean is a new brand value, that's become very apparent," Brain Corp said. "Our robots help amplify an organisation's cleaning capabilities almost immediately because they require no custom infrastructure to deploy."
Brain Corp's BrainOS platform currently automates hundreds of robot floor scrubbers used by Walmart and Kroger in the US. Globally, hourly usage of BrainOS-powered cleaning machines has risen during the pandemic, and was up 24% in April compared with the same month last year. Earlier this year the company raised $36m in Series D funding to help meet growing demand.
"During this pandemic, cleaning programmes have been greatly expanded, with employees now asked to do more surface cleaning, sanitisation, and disinfection," Spruijt said. "With robots working in parallel to do the more monotonous work, teams can successfully execute their cleaning programmes and ensure a safer environment."
Brain Corp-powered bots are being trialled at Lisbon Airport and several European retailers. Asda is understood to be the first UK grocer to use the technology.
Robotic cleaners capable of cleaning items on shelves using ultra-violet light are currently being trialled in Thailand at Central Food Hall in Chidlom.
Touted by Central Group as the world's "first supermarket to introduce disinfection robot using UV-C light", the robots shine UV-C light on to shelves during non-opening hours. A rollout to other branches is planned.
"The robots will help disinfect the store and reduce the spread of Covid-19," the company said.
UV-C light – which is harmful to humans – destroys more than 99.99% of all pathogens within seconds, with no damaging side effects to food products.
Similar bots would soon be seen in UK supermarkets, predicted Kate Ancketill, CEO of retail innovation consultancy GDR Creative Intelligence.
"The most significant change I hope to see may not even be on grocers' radars yet – that will be the proliferation of the new, safe version of UV-C lighting that will disinfect interiors in seconds. Those products aren't out yet – so you can't blame them, but later this year I think they could be a game-changer," she said.