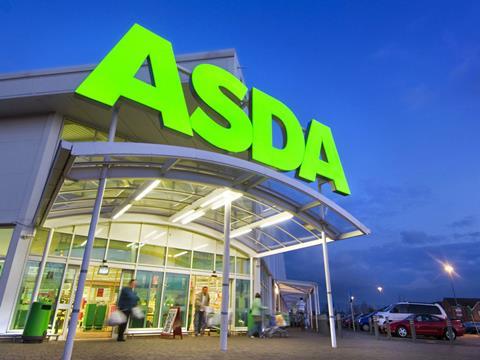 So eventually Andy Clarke's prediction that Roger Burnley would inherit his job as Asda boss has come true.
As of January, Burnley will be promoted to the CEO role, it was announced today. And even if Burnley was left disappointed by Walmart's dramatic intervention – which involved parachuting in another Clarke (Sean) from its China operations – he was always the heir apparent, Walmart International boss Dave Cheesewright suggested today, though whether it was anything like the carefully planned transition process Cheesewright he described is up for debate.
That's partly because of the total media lockdown that has typified Sean Clarke's 'interregnum'. It's been hard to know the nature of the journey Asda has been on since Clarke, Sean arrived, and during it, Asda has appeared to lurch from one crisis to the next, recording 10 successive negative LFL sales performances in a row, while thousands of jobs have been lost, the most recent at the beginning of last month with more than 300 roles at its HQ going, leaving morale reportedly at an all-time low.
That said, there have been chinks of light visible under Sean Clarke's locked doors. While resisting the temptation to deliver a nuclear price assault on the discounters, Asda is certainly more competitive than it was when Sean Clarke took the helm. And in August he returned the supermarket giant to sales growth for the first time since 2014. Even if much of that looks like food price inflation, it's clearly better than the 7.5% negative growth he inherited, and it's been accompanied by a sharpening of Asda's pricing in recent weeks, as evidenced by it pulling away from its big four rivals in The Grocer 33.
The store also scored points with its recent Halloween promotion, which made it one of the go-to stores for this year's accessories, food and drink.
Now, after the era of Mr Invisible Clarke, Burnley has a chance to put his stamp on the business he returned to in September last year. He will be hoping to bring back some of the glory days of the Archie Norman era, which he tasted in his first spell at Asda.
Since his belated arrival from an extended period of gardening leave following his defection from Sainsbury's, the COO has by all accounts been putting in some hard road miles, visiting Asda stores across the country to try and get Asda moving again.
And if Clarke has been the right man to steady the tiller, it is Burnley who has been finding out where the holes are beneath the waterline, and coming up with plans to fix them.
Asda's woeful availability
There is already evidence of that resulting in improvement, including new systems to address Asda's woeful availability, the reintroduction of fresh produce managers, and a renewed emphasis on fast but friendly service, all areas inexplicably allowed either to drift by the previous management or abandoned altogether, while other supermarkets sharpened their acts.
Burnley now has to find a way to articulate his vision for the future, and the progress of the turnaround, to somehow give Asda something of its old spark back, and to ignite staff morale in the process. He won't be able to do that by, like Clarke, hiding himself away in a darkened room.
The supply chain veteran also knows he has a vital job on his hands to improve Asda's battered relationship with its suppliers.
Don't forget it was only in September that we learned the full extent to which Asda's Project Renewal strategy resulted in a probe by the Groceries Code Adjudicator. While a full-blown crisis was averted, the damage to long-term trading relationships has not gone away.
With horror stories of suppliers being told to hand over as much as 25% of their annual turnover for SKUs, or face being removed from Asda's shelves altogether, that repair job, started under Clarke Mark 2, has to be one of the new boss's key priorities when he finally enters that top job come 1 January. Even if they give Burnley the benefit of the doubt, suppliers have long memories.