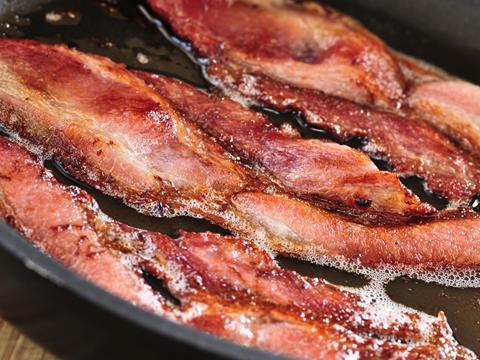 Morrisons' Milk for Farmers idea could soon be expanded to benefit pig farmers, after it emerged the retailer is considering a 'Bacon for Farmers' brand.

It has registered the trademark Bacon for Farmers with the Intellectual Property Office, alongside several further dairy versions of the brand including Cream for Farmers, Butter for Farmers and Cheese for Farmers.

Cream for Farmers will be hitting shelves next week.

Morrisons said the Milk for Farmers concept - which allows customers to pay a small premium to ensure farmers get paid a higher price for their products - had been a hit with customers keen to support the farming community, and it was now ready to extend its reach.

"We want to expand 'for Farmers' into new product areas and have registered additional brands for possible use in the future," a Morrisons spokeswoman said.

"The first of these, Cream for Farmers, will launch next week."

The prospect of a possible Bacon for Farmers brand was given a cautious welcome by National Pig Association CEO Zoe Davies - "as long as it benefits UK producers".

Meanwhile, next week's rollout of Cream for Farmers was welcomed by the NFU's chief dairy adviser, Sian Davies. "It's positive news consumers are willing to pay more when there is a guarantee it will go to farmers. I'm only surprised no other retailer has attempted to do something similar."

Milk for Farmers was launched last October after protests by dairy farmers over low farmgate milk prices, with specific criticism directed at Morrisons over its milk procurement policies.

The brand generated £1.05m extra for dairy farmers from October to December 2015, and more than £300,000 per month in extra payments since.