Nearly a decade after a tumultuous exit from one of wine's biggest players, Andrew Carter is fizzing with excitement at the opportunities presented by English sparkling.
He believes sparkling is the future of English wine, and is concentrating on making Chapel Down the sector's most valuable player
"Was I harshly treated by Treasury Wine Estates? Let's just say it's not how I would have treated a member of my staff."
Andrew Carter, Chapel Down's CEO, is reflecting on his departure from the Aussie wine giant, almost 10 years ago. Promoted from managing director Europe to chief of staff to CEO David Dearie, Carter uprooted his young family to the other side of the world, only to find, within weeks of their arrival, that Dearie had been dismissed and his successor, Michael Clarke, would dispense with his services a matter of months later.
Happily, Carter has moved on in every sense of the word. Initially that meant embracing his agricultural roots at fruit growing business Haygrove and indulging a passion at British horse racing outfit Weatherbys.
"When a change like that is forced upon you, it's always good to take a moment to decide what you want to do next," he says. "I took the opportunity to work in a couple of different industry areas outside alcohol."
However, a return to booze soon materialised, as the former Bacardí, Lion Nathan and Bulmers boss was called on in 2017 to run Chase Distillery, before replacing the retiring Frazer Thompson at the helm at Chapel Down a little over two years ago.
Name: Andrew Carter
Potted CV: 30 years of building some amazing drinks brands and leading great teams of people
The best decision you ever made: In life, marrying my wife Kay and in work, joining Chapel Down as CEO
Your business or celebrity icon: Nelson Mandela
Biggest regret: Not getting a dual Australian citizenship during my two stints down under
Proudest professional moment: Building Chase Distillery into the largest craft gin brand through Covid
Something you wish you'd done differently: Spent more time with my children in their teenage years
What do you drink when you're not drinking: Yorkshire Tea
Carter's time at the Kent-based Chapel Down thus far can be categorised by a relentless focus on brand development – the company has launched or extended high-profile partnerships with Ascot, The Boat Race and England cricket in the last two years – coupled with an increasingly sharp focus on sparkling, the segment he believes represents the future of English wine.
In pursuit of becoming synonymous with English fizz (around 80% of Chapel Down sales are sparkling wine), other distractions have been jettisoned. The sale of Curious Brewing was agreed shortly before Carter's arrival, and time was also called on its upmarket London gin bar just before the pandemic hit. Chapel Down plans to exit spirits "by the end of the year".
"Our vision is to be the number one and most celebrated English winemaker," Carter explains. And it's working. Chapel Down's sales and profitability have soared. Its latest half-year figures, published this month, show gross profit margins up 3% to 55%, whilst sales of traditional method sparkling grew an impressive 45%, to £5.7m.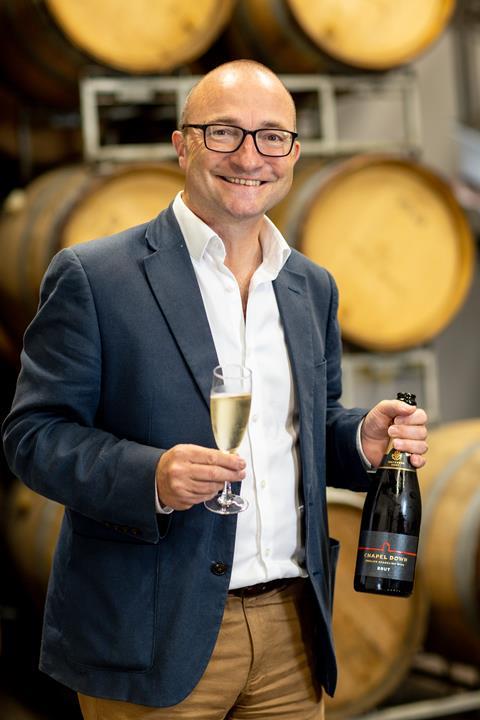 Of course, an alternative view could be that – in streamlining Chapel Down to its most profitable parts – Carter is gearing up to sell the London-listed business. He's got previous, after all, having led Chase through a period of extraordinary growth to sell to spirits giant Diageo in 2021. With champagne houses and sparkling wine majors already sniffing around English vineyards, could he be tempted if the likes of Taittinger come a-calling?
"Look – international players are constantly looking at this market," he says. "They have to: it's the fastest-growing wine region in the world – from obviously a small starting point. We are the number one player in the market so yes, we are attractive to international players.
"But do we have a desire to sell our business at this point in time? No. We're a listed company with the ambition to double the size of our business in the next five years. We're investing in vineyards and looking to invest in a new winery."
The near-12,000 sq m facility near Canterbury is capable of producing six million bottles a year and is forecast to be fully operational in time for the 2025 harvest? Where – if not from a stake sale – will the money come from?
"We're evaluating all options," Carter admits. "We're actively considering a move to the AIM [Alternative Investment Market] and within that we're considering the best way to raise investment to build the winery."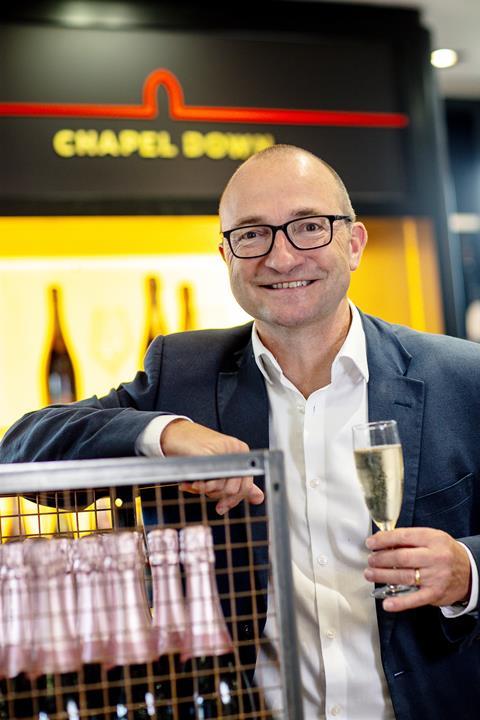 Is the changing climate an opportunity?
While the Chapel Down story to date is one of growth, risks remain. Climate change – which has wreaked havoc on harvests across much of southern Europe in recent times – has played its part in English wine's rise. How certain is he of the outlook?
"In Spain, Italy, France, the pressures are huge," Carter says. "They are having to look at different varietals, different growing periods. In the UK, the change is quite moderate in comparison.
"In the timeframe we're talking about, there is a sustainable wine region in this part of the world that will be here for centuries."
Chapel Down's latest harvest is evidence to this point. A record-breaking tonnage is expected, while a wet late spring and early summer has contributed to grapes of "exceptional quality". "If I had to have a set of ideal conditions to grow grapes in the UK, then we've just about had it in 2023," Carter adds.
However, with wine consumption falling dramatically around the globe, and just 7% of English wine being exported in 2022, it's reasonable to ask: where is all this fizz going to go?
"Our vision is to be the number one"
Carter admits "clearly at the lower end of still wines there is too much volume" but cites global travel retail as a growing opportunity. He points to Scandinavia and the US as key export markets, though acknowledges English wine still suffers from a value perception overseas.
"When you go into an international market, you're starting from ground zero every time," he says. "You're educating consumers, bar staff, sommeliers as to the value of English wine."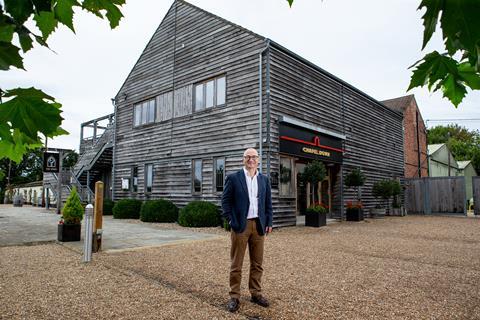 As such, domestic growth will remain a key priority. And within that, grocery is pivotal. Chapel Down makes around 52% of its sales from the off-trade, and sales were up 25% in the first half of 2023. The brand has recently added its Rosé Brut to its supermarket offer, and Carter believes the segment could be the next big growth opportunity.
"We've seen so much growth in rosé still wine, and brands like Whispering Angel and [Chateau] Minuty have done a fantastic job," he says. "At the same time we've seen a huge amount of growth in the prosecco and cava space, some of which is also pink.
"There is definitely a consumer desire and a group of consumers that want to drink pink sparkling wine."
And whatever the prospects for sparkling blush, the future for England's leading winemaker under Carter appears increasingly rosy.