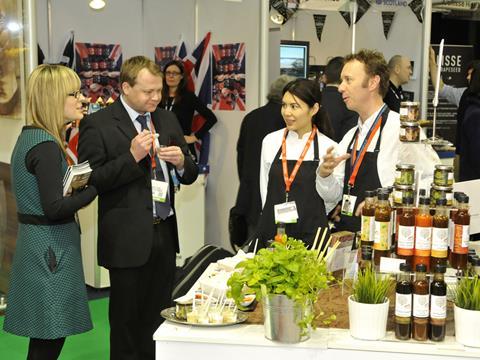 Despite never having won any new business as a result of tottering around trade shows in the highest of high heels and the skimpiest of blouses, Karoline (with a K) is insistent that I give IFE my full attention. "Best chest forward, Titty," she barks, as usual. "There are gullible governments with more money to spend on food promotion than they know how to use." And, indeed, you might have got the impression that Saudi Arabia, Algeria and Morocco are hotbeds of food production from their presence at the show - at least until you looked at the stands. I mean, I know dates are the next big thing, but how many suppliers do we really need to meet?

Anyway, I passed up numerous opportunities to further international relations, and concentrated my efforts closer to home. K says we should be acting as consultants and giving honest advice to clients "as long as it's not going to upset them", but as none of the exhibitors were clients I thought I could just tell it straight. So, while you may be a farmer who can grow potatoes (congratulations), you are not automatically an fmcg entrepreneur who can develop and launch a successful crisp brand. This advice may be a bit belated, because every potato grower in the UK has now developed a range of artisan crisps. And they were all at IFE.

Still, at least I could wash them down with one of the 350 coconut waters on show. Yawn. Redemption came in the form of alcoholic jellies - as in jellies for alcoholics. I took a box back to the office, but K was distinctly unimpressed when she tried them. "We just used to dip Newberry Fruits in gin," she slurs. "Drunker, cheaper, quicker". Now there's a slogan ripe for use.