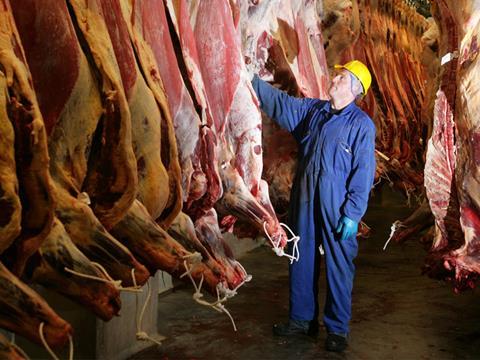 Food exporters have spent a total of 58 years filling out export health certificates so far this year as a result of the new post-Brexit trade rules, a leading trade body has said.
Export health certificates are required when shipping live animals or animal products such as meat and fish from Great Britain to the EU, Northern Ireland, or any other third country.
Karin Goodburn, director general of the Chilled Food Association, said official figures show the UK has issued 89,000 certificates so far this year, up from 806 over the same period last year – a 110-fold increase.
"If you take 89,000 certs and say it's a couple of hours each… it comes out at 7,500 days so far this year spent signing certificates," she told the independent Trade and Business Commission on Thursday, a new body made up of MPs and business figures to scrutinise UK trade deals.
"And that's 24-hour days, not eight-hour days," she added. "It's 21,000 eight-hour days," or 57-and-a-half years.
Nick Allen, CEO of the British Meat Processors Association, added to her concerns over export health certificates, stating businesses were still experiencing "huge variation" as vets sought to interpret the rules. "They appear to be a rule unto themselves," he said.
Only specially qualified vets – known as Official Veterinarians or OVs – are able to sign off export health certificates with the new requirements highlighting a national shortage. Defra responded to the issue last month by lowering the necessary qualification standards, including the English language requirement, however this could come with issues of its own, said Allen.
"We're increasingly having problems with [vets] actually making their own decisions about what the guidance notes say and the lowering of the language standards isn't going to help that."
Emily Rees, agricultural trade specialist and senior fellow at ECIPE, told the commission the UK must look to develop an electronic certification process as quickly as possible. "This is pretty basic. It could be done very quickly."
While much of the food industry has called for the UK to reach a veterinary agreement with the EU as a means to simplify border checks on food, Rees said it was also important to identify the "low hanging fruit".
"Instead of looking at the negotiation of a big veterinary equivalency agreement, what are the low hanging fruit that can be sorted straightaway – that are product-specific, that are sector-specific – and can get done through an exchange of letters?"
William Bain, policy advisor at the British Retail Consortium, said the retailers' biggest concern remained Northern Ireland, citing both the current political climate as a potential threat to the implementation of the NI protocol, and the possibility that ongoing talks between the UK and the EU to ease the frictions on the Irish Sea border might not be concluded by the time full checks are due to begin in October.