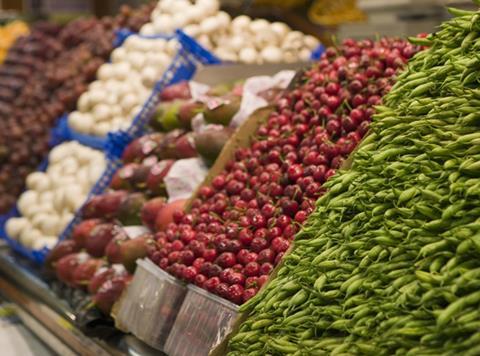 Top story
The British Retail Consortium has warned the UK faces higher food prices and reduced supply of short shelf-life goods in the event of border friction with the EU.
Michael Gove last week admitted there would be some level of customs checks on goods being transferred from and to the EU at the end of the UK's Brexit transition period in 2020.
The BRC has warned this morning that without comprehensive trade deal "UK consumers will suffer".
It said: "The largest market we buy from is the EU where sophisticated, efficient supply chains mean we can give consumers the longest possible shelf life even for the most perishable, fresh produce."
It said only by "agreeing a trade deal with the EU which keeps costs and delays to an absolute minimum… can we ensure consumers continue to benefit from the same choice and affordability of products in our stores that they are used to."
"An absence of co-operation on rules, covering everything from transit and documents to food safety, will lead to costly border checks and new red tape. With clear decisions, these costs can be minimised for businesses and consumers alike."
"While we can source many of these products from UK supply chains we cannot avoid the need to supplement that with European produce, particularly out of season. Without solutions which avoid delay and allow us to move products into the UK quickly, particularly through Dover and Folkestone, consumers will see reduced choice and shorter shelf life. There will also be inevitable pressure on costs."
Its report published today "A Fair Deal for Consumers: EU Trade Roadmap" calls for "pragmatic solutions on future compliance and regulatory checks" that will apply from January 2021.
Almost 80% of all the food that UK retailers import comes from the EU, making the EU negotiation particularly important for these essential goods.
While the BRC concedes there is no possibility of return to frictionless trade under the Government's red lines, there are key mitigations that could reduce the impact on consumers and retailers, including a zero tariff trade deal, co-operation with the EU to minimise trade friction, co-ordination on VAT, customs and excise procedures, advance information on new checks and paperwork and the timely construction of necessary infrastructure at UK ports.
BRC CEO Helen Dickinson commented: "The issue is simple – higher tariffs and extensive checks will harm consumers, retailers, and the UK economy. The Government must set about to negotiate a zero tariff agreement that minimises checks and red tape otherwise it will be consumers who suffer as a result.
"The introduction of excessive or avoidable checks would mean businesses face a mountain of paperwork to be filled out by an army of newly trained staff, coupled with exhaustive checks on thousands of lorries every day. And the result for consumers would be higher costs and reduced availability on the shelves."
"Meanwhile, new IT systems will need to be created and tested before the 1st January 2021. Border Control Posts must be built, with people hired and trained to run. Unless these are ready and tested. The Government has no time to lose."
Morning update
French retail giant Carrefour (CA) has continued its push into Brazil, with the acquisition of a further 30 cash and carry stores from Makro Atacadista to expand its growing Atacadão format.
The acquisition involves 30 stores (including the real estate of 22 of those, which are fully-owned, and another 8 rented stores) and 14 gas stations, located in 17 states across Brazil. The transaction is valued at 1.95 billion Reais (€420m) to be paid in cash.
The 30 stores, totaling 165,000 square meters of sales area, posted gross sales of around 2.8 billion Reais in 2019 and offer strong geographic complementarity with the existing Atacadão network. The acquisition will allow Atacadão to expand its presence, notably in the densely populated state of Rio de Janeiro (7 stores) and in the Northeast region (8 stores). The new stores will add to Atacadão's existing network of 187 stores, while the company also continues its strong organic growth.
Carrefour plans to convert these stores to its Atacadão banner during the 12 months following the closing of the transaction.
Based on the Atacadão model, Carrefour expects sales to increase by more than 60% and the cost structure will be optimized, making it possible to gradually achieve profitability levels close to those of the existing Atacadão network.
Alexandre Bompard, Chairman and CEO of Carrefour commented: "This transaction is Carrefour Group's most significant move in Brazil since the acquisition of Atacadão in 2007. It underscores our strong commitment to expanding our growth formats, in line with the Carrefour 2022 Transformation Plan. With this transaction, we further expand our presence in the Brazilian market, the group's second-biggest after France."
FTSE 100 packaging firm DS Smith has announced CFO Adrian Marsh will leave the group to become CFO of betting firm William Hill.
A process to determine a successor is now underway and Marsh will work with the CEO and the board to ensure an orderly transition. His contract requires him to give 12 months' notice and his departure date will be determined in due course.
Miles Roberts, CEO, commented: "Adrian has been a committed, professional and loyal DS Smith colleague. I have greatly enjoyed working with him on both a professional and personal level for the last 7 years. He will leave with our gratitude for his contribution to the group and our very best wishes in his new venture."
Marsh added: "I have thoroughly enjoyed every minute I have spent with DS Smith and it has been a privilege and an honour to support Miles and all of my colleagues in building the leading supplier of sustainable packaging solutions. DS Smith is a remarkable company with an exceptional purpose and a talented leadership team."
On the markets this morning, the FTSE 100 has started the week up 0.3% to 7,433.6pts.
Early risers include Eagle Eye Solutions, up 3.1% to 236p, Bakkavor, up 1.8% to 137.4p and Marks & Spencer (MKS), up 1.3% to 186.3p.
Fallers so far today include Total Produce, down 2.2% to 112.5p, DS Smith (SMDS), down 1.5% to 360.4p and Ocado (OCDO), down 1.5% to 1,149.5p.
This week in the City
A quiet week ahead is headlined by Walmart's (WMT) full year results tomorrow.
The US retail giant will reveal its full year earnings tomorrow lunchtime, along with full year sales figures for its UK supermarket group Asda.
Also in the calendar on Thursday is interim earnings for troubled household goods supplier McBride (MCB) after a number of profits warnings in recent times.
A number of global fmcg firms will be giving updates in presentations at the Consumer Analyst Group of New York Conference that is taking place this week.
In economic news, Wednesday brings the publication monthly UK inflation figures from the office of national statistics.
Thursday brings the ONS retail sales figures for the month.