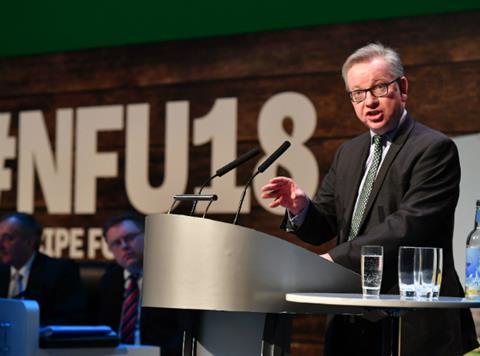 Industry leaders have warned Defra is facing a "brain drain" that threatens its ability to cope with a no-deal Brexit, as well as other key government policies affecting food and drink.

The departure of secretary of state Michael Gove, to become Duchy of Lancaster, was this weekend followed by that of environment minister Thérèse Coffey, who left to replace Amber Rudd as work and pensions secretary.

Meanwhile, Gove's replacement Theresa Villiers confirmed a raft of special advisers brought in by Defra under Gove had now been re-assigned.
Among them, food waste tsar Ben Elliot, who was appointed in January to drive plans to tackle food waste, had been given a new role working for Conservative HQ, MPs were told.
The new role, which Elliot took in July, is co-chairman of the Conservative Party
Leon co-founder Henry Dimbleby, appointed by Gove in June to lead what was billed as the first major review of the UK food system in 75 years, is another believed to have been moved to a new role.

Villiers told the Environment, Food and Rural Affairs Committee Defra was undertaking a review of the impact on the departures. She said she was confident it would continue to receive the same level of expert advice.
"A number of the external advisors that Michael Gove brought in have undertaken new roles so we are working through the implications and assessing what impact that will have. But we are hoping to be able to continue to benefit from the expertise and advice of that team that Michael put together."

However, food and drink sources have expressed alarm at the departure of a string of key figures from Defra. Gove had been widely credited with making the department more effective and ensuring it worked more closely with the industry.

Coffey's departure means there is currently no minister directly responsible for resources and waste management within Defra. Huge questions remain over the future of legislation including the environment bill, the agriculture bill and the fishing bill.

"There's no question that Michael Gove's arrival was what step-changed Defra and made it turn into a very relevant and really serious government department that was treating seriously some of the big issues facing the industry, not just Brexit," said one source.

"Now Coffey has also gone you have another gap. She was a steward and had built up a lot of knowledge."

The FDF said it was vital Coffey's replacement tackled the crisis facing companies because of the soaring cost of recycling compliance, via the controversial PRN (packaging recovery note) scheme.

An FDF spokesman said: "One pressing issue we intend to raise with the new minister is around the rising PRN prices. For industry's competitiveness, it is vital that government looks urgently at all regulatory and non-regulatory means to help ease the situation and reduce the very significant cost burden this is putting on producers in terms of compliance, without generating any additional environmental benefit."