With Covid and Brexit forcing the UK to re-examine its food security, 'farm cities' and towns, from Tokyo to Todmorden, could provide a sustainable model for communities to feed themselves
Tokyo is a king of modern-day mega cities. Majestic skyscrapers, a sophisticated transport network, and almost 40 million residents dwell within its urban sprawl. A triumphal metropolis, most certainly. A bucolic paradise… perhaps not.
But look a little closer and a more nuanced picture emerges. Nestled in among the skyscrapers and concrete avenues lies a potential blueprint for a modern form of sustainable agriculture. Unlike many nations that divide themselves between city and country, or urban and rural, Japan mixes the two in a patchwork of organic farms dotted throughout its cities.
These aren't just home gardens contributing the odd bunch of beans to the dinner table – these are core components of the nation's food security. A quarter of all Japanese farmers live in cities, producing around one third of the nation's entire agricultural output. In Tokyo alone, they produce enough vegetables to feed around 700,000 people.
Granted, Japan's system is far from perfect. The country's food security is one of the lowest in the developed world and its urban farms are under threat from evolving planning regulations. But as the UK considers its own levels of self-sufficiency and food security in the wake of Brexit and Covid-19, could it learn something from its model of food production?
Makoto Yokohari of the University of Tokyo argues "urban agriculture can enhance the resilience of neighbourhoods by providing fresh food in times of natural disasters". During a global pandemic, for instance. Or the biggest upheaval to a major trade relationship in modern times: Brexit. Both those challenges have served to highlight the fragility of the UK, which currently relies on imports for about half its food.
Many UK cities are already rising to the occasion. In London, underground vertical farming sites are pumping out lettuce from below Clapham Common, rooftop beehives are undergoing a renaissance – having tripled in number over the past decade – while urban farms such as Sitopia Farm in Greenwich are growing healthy fresh food for the local community.
The benefits are as sociological as they are practical. While greater self-sufficiency is desirable from a food security point of view, it can also reduce the gap between urban and rural economies, place urban dwellers in closer contact with their food production, and ultimately increase food's cultural value in society.
That's at least according to Carolyn Steel, author of the Hungry City and Sitopia books, and a driving force behind the aforementioned Greenwich farm. If we are to create a healthier relationship with food for the public and the planet, urban residents must be engaged in the mission, she says. That means ending the 'out of sight, out of mind' policy cities have taken to food production, which has contributed towards an urban-led exploitation of rural environments.
The history of feeding urban populations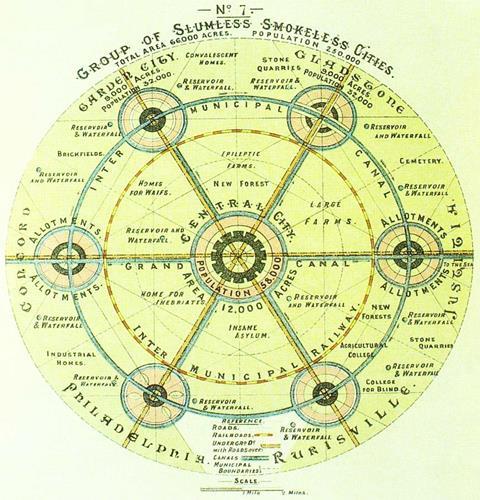 Visionaries as far back as Plato and Aristotle have considered the best ways to feed a city. The ancient Greeks believed a city should be kept small so it could be easily fed from its fringe while also satisfying needs for social urban and rural spaces.
For much of history, however, cities have become less harmonious with their hinterlands. As Carolyn Steel argues, "far from being the rural idyll of our imaginations, the countryside is increasingly a dumping ground for urban externalities".
Disheartened by the urban sprawl of the late 19th century, Ebenezer Howard wrote his 1902 'Garden Cities of To-morrow' to propose a network of small urban centres dotted across the countryside and connected by railways. The book gave rise to the garden city movement upon which Letchworth and Welwyn were built.
Scottish geographer Patrick Geddes agreed: "Towns must now cease to spread like expanding ink-stains: once in true development, they will repeat the star-like opening of the flower, with green leaves set in alternation with its golden rays."
Geddes' tentacled approach to urban planning has been taken up by modern-day architects Bohn & Viljoen, who propose creating green corridors into the countryside made up of food-filled car parks and verges. Together with the EU's Edible Cities Network, they are driving the debate on integrating food in future settlements as well as through retrofitting.
Steel City
The current division between urban and rural is clear in UK locations such as Sheffield. Gazing out from its Meersbrook Park, the city's grey rooftops stand in sharp contrast to the rolling Pennine hills beyond. Few British cities offer such close proximity to the countryside. Yet, like nearly all cities when it comes to food production, Sheffield remains very separate to its rural surroundings. The rolling hills are where food is grown. The buildings in the foreground are where it is consumed.
It doesn't have to be that way, says Jill Edmondson, environmental scientist at the University of Sheffield. Edmondson's team have researched the food-growing potential of green spaces within the Steel City, examining how gardens, allotments and roadside verges could help build a resilient food system for the city in the years to come.
In a study published in Nature Food last year, they revealed that urban land in Sheffield could grow fruit & veg for 15% of the population using just 10% of the city's gardens and other green spaces.
"Even farming a small percentage of available land could transform the health of urban populations, enhance a city's environment, and help build a more resilient food system"
And that was erring on the side of conservatism. Convert it all to food and suddenly you can feed approximately 709,000 people per year – that's 122% of Sheffield's population – all their '5 a day' within the confines of the city.
It shows the immense potential of undeveloped urban spaces. Like many other UK cities, around 45% of Sheffield is ripe for green development. Flat roofs, for example, make up 32 hectares across the city centre. While this is equivalent to just 0.5 sq m per person, the researchers concluded the high-yielding nature of soil-free farming used on rooftops meant this could make a significant contribution to local horticulture.
If just 10% of the flat roofs became soil-free tomato farms, more than 8% of the local population could get one of their '5 a day'. That figure would quickly bump up to 60% if as many as three quarters of the flat roofs were utilised.
This is just one illustration of how UK cities could use space better for food production, says Edmondson. "The UK is utterly dependent on complex international supply chains for the vast majority of our fruit, and half of our veg, but our research suggests there is more than enough space to grow what we need on our doorsteps," she says. "Even farming a small percentage of available land could transform the health of urban populations, enhance a city's environment, and help build a more resilient food system."
In towns such as Todmorden, West Yorkshire, this process is already underway. And it's taking the community approach recommended by Steel. Incredible Edible was set up in 2008 by Pam Warhurst and Mary Clear, who wanted locals to start planting fruit & vegetables on grass verges and forgotten plots for the whole town to enjoy. This was not just a bid to encourage healthy eating, but to change the community's entire relationship with food and each other.
"This is about more than growing," emphasises Warhurst. "This is about starting to use your nous, growing and sharing, cooking and sharing, creating a community around food that will lead to more people wanting to buy local food, better connected communities, and a greater kind of local economy."
When established in 2008 – in the midst of the financial crash – the project may have seemed idealistic. But Incredible Edible now speaks for itself. It has grown to become an extensive network of 150 groups across the UK and another 1,000 globally. Last month, Todmorden was crowned one of the Sunday Times' 'best places to live in 2021', with the judges praising "the indigenous grow-your-own-food movement, Incredible Edible" that has locals growing fruit, herbs and vegetables in their front gardens.
Today, many cities have more than one of these projects on the go. And the scope for further progress in each and every population is huge.
Take Leeds, for example. Here, 1,000 sq km of warehousing, derelict land, and unused floor space in abandoned buildings has been identified as holding the potential to start growing food – the equivalent of over 150,000 football pitches.
That space was identified during a study by the Global Food & Environment Institute at the University of Leeds, which sought out ways to enhance the city's food security in the face of supply threats such as Covid-19 and Brexit.
It concluded that not only was Leeds vulnerable to shocks to its fruit & vegetable supply, but any such impact would be felt first by the most deprived areas of the city. "Disruptions tend to cause shortages in some food categories, which then increase food prices. People on low incomes spend more of their income on food. Any increases in food prices will limit what they can afford to buy," says lead author Caroline Orfila.
Fortunately, however, about half of the 1,000 sq km identified lies close to food banks, community centres and food processors, meaning the spaces could help build "a resource-efficient urban food ecosystem," that includes vertical farming, hydroponics, or more conventional growing methods, concluded the study.
Changing mindsets
There is undoubtedly a growing buzz around urban food production and even the UN has now launched its own 'Urban Food Agenda'. But the potential must not be overstated. As Carolyn Steel points out, there is an urban paradox in which the very nature of cities typically makes it impossible for them to feed themselves from within.
Take vertical farming, for instance. While investors are captured by the novel concept of food grown in caverns below Clapham Common – and shoppers are similarly beguiled by fresh lettuce grown in front of their eyes in Marks & Spencer – the potential to feed a city the size of London lies beyond the realms of possibility. Steel calculates it would take approximately 2,000 vertical farms each 100 sq m to feed its 9.5 million residents, even if we were to stop wasting food and stopped eating animals.
"We won't get change unless we change the way people think about food"
But at its heart, just as Warhurst has shown in Todmorden, urban food cities are about far more than just growing food: it is about changing communities and mindsets as much as boosting self-sufficiency percentages.
While governments and experts confabulate over policies to address public nutrition, environmental destruction and harmful plastics, the real drivers of change will ultimately be down to the willingness of an informed public.
"We won't get change unless we change the way people think about food," argues Steel. "And one of the most direct and obvious ways of doing that is getting them involved in growing because it's completely transformative. You get your hands in the dirt and all of a sudden the lightbulbs start popping."
It's a timely point in the wake of the pandemic, which has seen public interest in food surge, as local produce and home cooking have taken on a newfound importance. If food systems are going to undergo genuine and significant change in the coming years, this momentum must be captured and continued. And a few muddy hands in Britain's inner cities might just be the best way to go about it.
The global food cities making their mark
London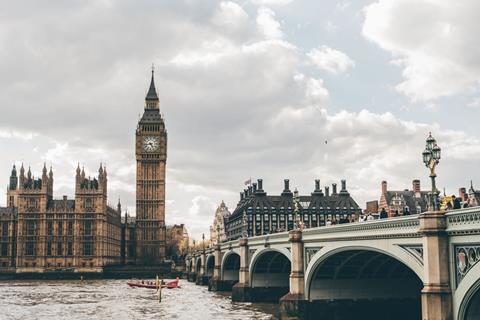 London is not only a burgeoning centre for vertical farming, a home to community urban gardens and rooftop beehives, but its famed Oxford Street could soon be a centre for food production too.
In recently set out plans, Westminster Council said it wanted the area to become "the greenest, smartest, most sustainable district of its kind anywhere in the world". This includes clean air and streets, as well as locally sourced food and drink. So could Britain's most famous shopping street soon be a destination for tomatoes rather than t-shirts?
Todmorden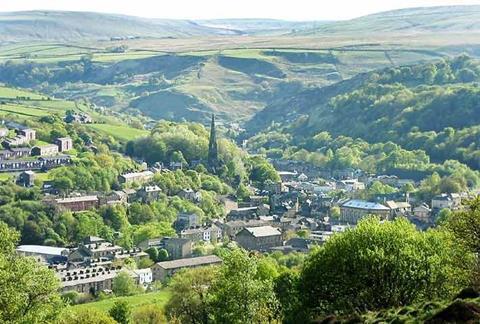 The West Yorkshire town's food culture helped land it a place as 'one of the best places to live in 2021' in the Sunday Times, which praised "neighbours growing fruit, herbs and vegetables in their front gardens as part of the indigenous grow-your-own-food movement".
That movement is Incredible Edible, the brainchild of Pam Warhurst and Mary Clear, who encouraged locals to plant fruit & veg on grass verges and forgotten plots for all to enjoy. The aim was to create "kind, confident and connected communities" through food production.
Seoul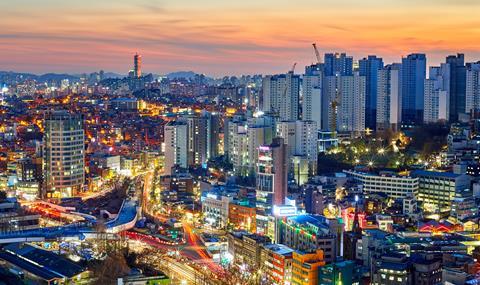 South Korea's capital is a thriving network of community gardens. The number of urban farms has increased six-fold in the past seven years, with 170 hectares now in use for growing food. Most are located in the small patches between apartment blocks or roofs, and many are near schools to give kids hands-on gardening experience.
After all, these are as much about community as production. "The main focus of these projects is not supplying food, it's about the social experience," Lee Byung-hun, a city official in charge of the urban farm projects, told the Korea Times.
Cleveland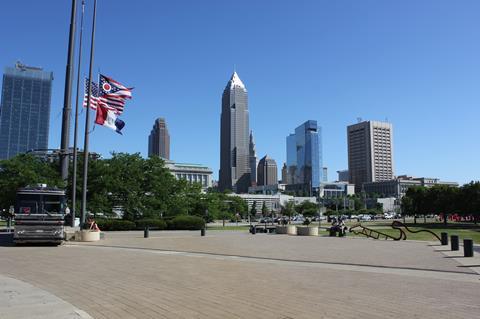 A once desolate dumping ground in inner city Cleveland has been transformed into an urban farm as part of efforts by the Rid-All partnership to transform eating habits among local communities.
A lush, eight-acre site has been filled with greenhouses, fishponds and a composting facility that has become a community hub for teaching children and adults alike about the powers of healthy food.
"Food is the longest relationship you will ever have and we're trying to help people make it a good one," Keymah Durden III, a Rid-All co-founder, told The Guardian.