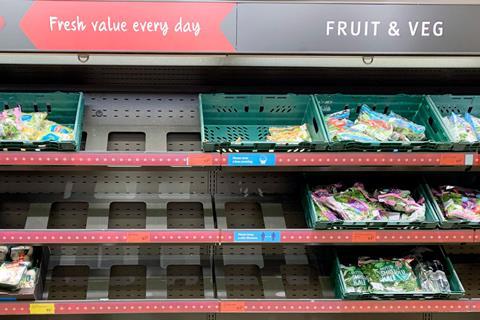 The fresh produce sector has blamed fruit & veg shortages in the mults this week on "fundamental errors" by the government.
Despite the UK implementing a light-touch border approach since the end of the Brexit transition, importers claimed the government had failed to update certain IT systems to reflect this.
As a result, produce imports have had to be manually cleared through customs controls upon request, causing a "huge amount of delays" due to processing errors, and a "huge additional workload on those businesses," according to Nigel Jenney, CEO of the Fresh Produce Consortium.
Although the error had now been resolved, Jenney said the delays led to many customers missing delivery slots, the impact of which was reflected in shortages of some products in supermarkets this week.
"While this is not easy, it is actually the easy bit," suggested Jenney, who warned further challenges were expected once the UK started requiring imports to be accompanied by health documentation and customs declarations later this year. "The industry has been let down by the government failing to prepare its own IT systems properly. The frustrating thing is it was fully aware of this issue."
A Defra spokesman said the error was down to "a technical complication" involving CHIEF, the UK's customs system for EU trade, and was quickly fixed.
The strain on supplies comes as Spain was buffeted by storms that brought heavy snow over the past week. Fepex, Spain's fresh produce export association, said it had reduced yields of tomatoes, cucumbers and courgettes.
But Vernon Mascarenhas, commercial director at wholesaler Nature's Choice, downplayed the storm's impacts. While it presented a "technical hold-up" to supplies, he said, it would "come and go very quickly". He warned the bigger issue importers faced was Brexit paperwork, which was adding an extra €250 to each load.