Brand history:
Most people remember this chocolate biscuit with toffee thanks to its legendary TV advertising campaign, fronted by the loud-mouthed Suzie. The biscuit, which was made by Jacobs, was incredibly popular in the 1980s.
What our Facebook fans say:
"I used to have a Trio in my school lunchbox every day and I miss them… Oh the memories of childhood. I want it back just for the song and so a whole new generation of schoolkids can make up their own words in the playground… Trio was the best chocolate bar ever, and every time you opened one or saw someone eating one you just had to sing the theme song from the advert: 'Trio, Triiioooo.' So cool."
What the brand experts say:
"People don't really remember the old red Trio packs," says Elmwood designer Ollie Mason. "They remember Suzie and her lovely bellow so we wanted to expand that typographic visual pun. People will look at this and think that it always had this pun in the marque, because it has a freshness and familiarity at the same time."
The reactivation plan:
"Over-engineered, trendy new products in the chocolate biscuit market, such as millionaire's shortbread, don't have anything on the Trio," says Sarah Harrison, senior account director at Brand Activation, part of the Brandwidth group. To relaunch Trio Elmwood brand provocateur Jamie Campbell suggests an X Factor-style competition to find the new voice of Suzie.
How Trio could look
- The main equity of the orginal packaging was the red wrapper and the word marque, which played on the advert's bombastic theme tune.
- Elmwood wanted to expand the typographic visual pun by adding Suzie's gaping mouth to the new marque. The concentric stripes were added to give the pack a Beano-esque feel.
- The outcome was a graphically simple design that really stands out in a visually crowded marketplace.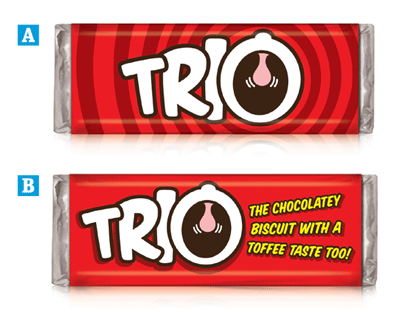 See also:
Bring Back a Brand - the challenge
Funny Feet (Unilever)
Toffo (Nestle)
Bring Back a Brand: The reactivation challenge
1

2

3

4

Currently reading

Trio (United Biscuits)