Special K is down £14.6m and All Bran has lost £6m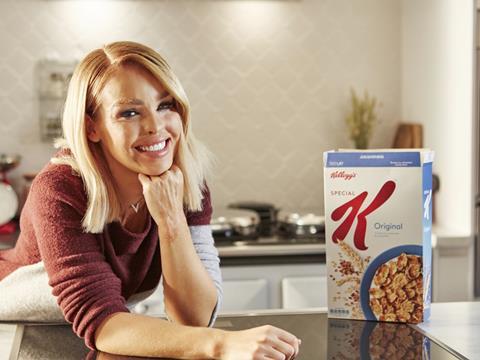 Last year's ranking: 9
Sales: £480.9m (-3.4%)
Brits' bodies are now their temples, right? While the trend for sugar avoidance and healthy living might suggest this is the case, Kellogg's performance does not.

For the greatest contributors to the brand's £16.9m decline - the result of a 25.8 million, or 8.9%, fall in packs sold - is not its most sugary cereals, such as the now-axed Ricicles line, but products marketed as a healthy start to the day. Special K is down £14.6m (17.6%) despite an ad campaign with Katie Piper (pictured) and All Bran has lost £6m, nearly a quarter of its value, making them the two greatest losers in the portfolio.

Part of the problem for both is that the concept of healthy eating has moved on, with consumers responding less to traditional 'diet' or high-fibre cues. In response, November saw the launch of WK Kellogg, a no added sugar, organic and vegan cereal range.

Cereal marketing director Gareth Maguire says the launch was part of Kellogg's Better Starts plan, an initiative that included commitments to cut the sugar content of Coco Pops and Rice Krispies by 40% and 20% respectively.

"But it's not always about reformulation, it's about encouraging consumers to pick tasty yet lower sugar alternatives," adds Maguire. "That's what we've done with Kellogg's Corn Flakes. In 2017 we put significant marketing weight behind it for the first time in more than five years." And sales of Corn Flakes are up £5.3m (11.1%).

Still, Kellogg's star performers are on the less healthy side. Krave is up £3.4m (15.5%) and Crunchy Nut is up £6.8m (9.2%) on volumes down 0.4%, thanks in part to the launch of Peanut Butter Clusters and a £6m campaign in which the brand searched for the 'Ultimate Crunchy Nutter.' Nuts, eh?