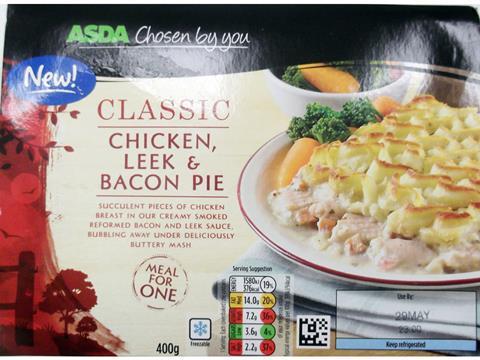 Who: Asda

What: Classic Chicken, Leek & Bacon Pie

Where: Chilled ready meals

When: Launched May 2014

How much: £2.28/400g

Why: Horsegate dented the ready meals market last year, but it remains a £1.4bn category and one of the hotbeds of own-label innovation. While much of the NPD is around up-and-coming exotic cuisines, English dishes remain the most popular ready meals category - valued at £450m [Kantar Worldpanel 52 w/e 8 December 2013] - and Asda is targeting this market with its version of the tradition chicken and bacon pie.

Consumer verdict: Asda's take on this dish generated a good level of pre-trial interest. As with the Rustlers Noodles (p47), there was a big difference in how the product was rated by testers in different parts of the country. Northerners liked it - scoring it 46 overall - with some referring to "good sized pieces of chicken," while Southerners scored just 20 and criticised it for being "too processed, salty and mushy." Ultimately, 42% of respondents said they would never buy it, while 29% said they would buy it at least once a month.

Pre-trial purchase: 25%

Post-trial purchase: 37%

Better than what's out there: 41%

New and different: 38%

Overall score: 31/50

What is Fast Foodfax?
It is a subscriber service that has been running for more than 30 years, offering consumer assessments of new products and allowing comparisons with more than 17,000 products from our database. It is objective, impartial and totally independent, and each product is assessed using original consumer feedback from respondents across the UK. See here for further information.
Fast Foodfax is prepared by Cambridge Market Research , which works closely with The Grocer magazine on a variety of projects including the consumer judging element of the The Grocer's Own-label Food & Drink Awards and New Product Awards.
Tel. 01223 492 050 Email: Info@CambridgeMR.com