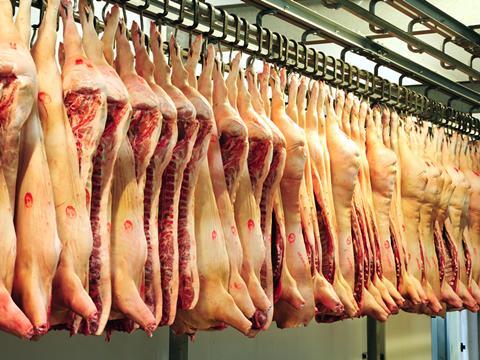 Coronavirus is threatening to slow British pork production as cold stores reach capacity amid dwindling exports to China.
Food exports to China collapsed following the outbreak of Covid-19 in December, causing supplies to pile up in British warehouses.
Severe disruptions to global shipping have exacerbated the problem, with many businesses struggling to find containers for long-haul transportation.
The effects are now threatening British pork production which relies on exports to China for carcass balance.
"Once the cold stores are full there's nowhere to put what you're processing," said Shane Brennan, CEO at the Cold Chain Federation, who believes stores have now reached full capacity.
"This creates a bottleneck for production which is not something that's easily solved."
Jim Brisby, commercial director at Cranswick, confirmed there have been difficulties. "There has been disruption and it is continuing, with containers quite hard to get and boats piling up outside Shanghai," he said.
"We've been stocking product now since the new year in anticipation of the trade returning."
Brisby stressed recent signs of recovery in China meant exports could soon return to normal. "The underlying demand in China is still very strong, and we understand their stocks are low.
"People [in China] tend to eat a lot of pork at home, so if anything demand has risen through this period. Once people go back to work this week we expect product to start moving again."
"There is some sort of a problem but processors have told me that this won't be an issue for long," agreed Zoe Davies, chief executive of the National Pig Association.
But many logistics operators believe the chaos is far from over.
Perishable goods rely on refrigerated 'reefer' containers for long-haul transportation and disruptions at Chinese ports have created a global shortage.
About one in seven of the world's reefer containers are stuck in the region unable to unload, according to Yntze Buitenwerf, CEO of Seatrade, a cold storage shipping company.
Even if the global coronavirus outbreak ended tomorrow, shipping lines could still take at least eight months to return to normal, he said.
He believes food production may quickly notice the effects.
"The food doesn't stop growing and the fish don't stop swimming. The only thing you can stop is processed foods but only for a period of time. This really has to be shipped."
Graham Parker, CEO of Gravity Supply Chain, a supply chain analytics company, said British businesses must not be complacent simply because containers are currently available. "There have been more sailings this week, but these are containers that have been waiting."
He believes issues in container availability will filter through due to an ongoing shortage in the global supply chain.
"This is not something that is going to be resolved in the next couple of weeks," said Buitenwerf.