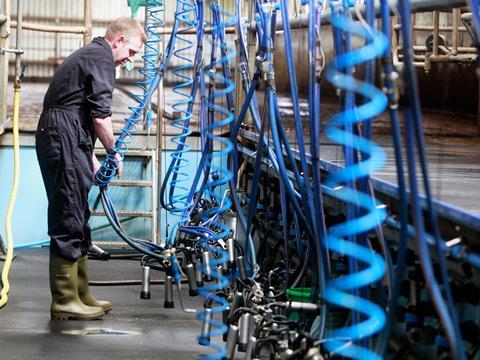 The architects of the dairy industry's voluntary code of practice have insisted it is working despite the sector suffering arguably its most serious crisis since 2012.

Collapsing farmgate prices and exposure to the volatility of global dairy commodities have raised questions about how effectively farmers are protected by the code, which was introduced in the wake of milk price protests in 2012.

Among its core tenets, it was designed to offer dairy farmers greater protection from rapid changes to contracts and prices by processors.

Farmgate prices have been cut significantly by processors in recent months, but NFU Scotland milk committee vice chairman Rory Christie - who helped develop the code - said this did not mean the code was not working. The "tools are already there" for farmers to take greater control of contractual arrangements," he said.

"The code needs to be used, and farmers need to be better represented and to take control of their situations," he added. "So I don't think it needs to be reviewed - it's a tool not a silver bullet."

Judith Bryans, the CEO of Dairy UK, also stressed the code was "fit for the purpose it was developed for", and suggested many people did not understand the limits of the code's remit.

"Given the current crisis within the industry, people think it should do something else, but it was set up to improve contractual relations, never to set milk prices," she said.

However, Rob Harrison, the NFU's dairy board chairman, was more critical. While agreeing the code had been effective in giving farmers more contractual freedom, he suggested it "lacked teeth" in protecting farmers from situations of oversupply, and called for more milk buyers to sign up to the guidelines.