A shared vision on farming
I attended the Oxford Farming Conference in January. The opening address is traditionally undertaken by the Secretary of State for Defra - seven different people over the past 10 years. Clearly a sign that the job is for politicians on the way up… or down.

Many thought the then-imminent government reshuffle would result in Michael Gove moving on and therefore his speech would lack any firm commitments in terms of radical changes. Wrong on both counts! Gove still holds the Defra position and his speech was quite stunning in terms of content and vision. He spoke in eloquent terms about the challenges the UK agriculture industry faces and how it must transform in terms of what governments (European or national) need to support.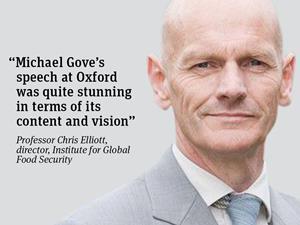 The failures of the Common Agriculture Policy were highlighted, but the vision of connecting agriculture, food production and the health of the nation was both surprising and very welcome. Not long into the speech I received a text from a colleague in the audience. It read 'Did you write Gove's speech?' Clearly I did not, but the understanding that huge changes are needed and the prize could be a sustainable agriculture industry and a much healthier nation was extremely gratifying to hear. I think one important facet of delivering his vision was missing - the role of education - but then as an educator I would say that.

So now the hard work begins. Can Gove deliver? The wave of optimism that Gove's speech attempted to capture was of course related to Brexit and the fact that decision-making will be back in national hands. Despite the powerful speech, there was scepticism about real change and huge worries about life after CAP for farmers in the UK - around 70% of delegates stated that they would vote 'no' to leaving the EU if asked again.

Finally, I had the opportunity to speak with John Bell, director of the bioeconomy for the European Commission last week. He talked about the future vision of the EU in terms of CAP reform and the need to drive sustainable farming and connecting this to health. Seems to me Gove and Bell rather share a vision. Now there's a bit of irony.

Professor Chris Elliott is director of the Institute for Global Food Security at Queen's University Belfast