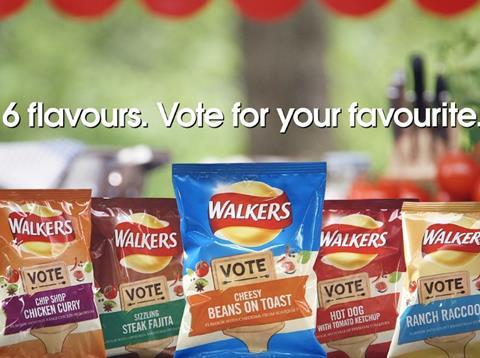 Gary Lineker is back on TV screens with a push for the Walkers Do Us a Flavour promotion.
He features in a series of six different adverts that began airing from Friday (8 August) and highlight the new crisp flavours created by members of the public for Do Us a Flavour.
Lineker challenges the nation to tell the difference between the real dishes - Ranch Racoon, Cheesy Beans on Toast, Hotdog with Tomato Ketchup, Pulled Pork in a Sticky BBQ Sauce, Sizzling Steak Fajita and Chip Shop Chicken Curry – and the crisp flavours in blindfolded taste tests.
The six flavours (rsp:70p/40g) are on sale now and the public has until 17 October to vote for their favourite.
The creator of the most popular recipe will scoop £1m, while five runners-up will each win £10,000. "We can't wait for the great British public to see the final flavours on TV," says Lee-Teng Chung, Walkers marketing manager. "We hope it will encourage the nation to get involved to test the new flavours leading them to cast a vote for their favourite."
The advertising push includes in-store support with a six-case stacker that allows flavours to be displayed together.
The crisps are also being sold as two six-packs each containing two bags of three of the flavours (rsp: £2.06) and 20-packs with three bags of each flavour, a bag of ready salted and one cheese & onion (rsp: £5.29).