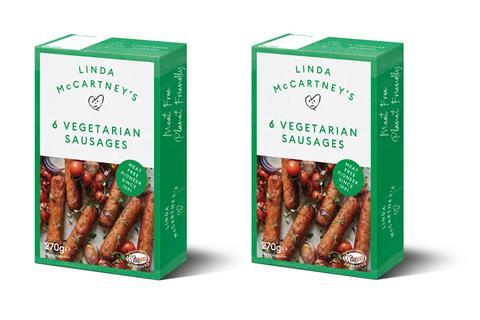 Linda McCartney's has given its full range of frozen vegetarian products a new look in a bid to better stand out on shelves.
The new look, which is the veggie brand's first in four years, would make it easier for shoppers to locate the brand in stores, it said, while maintaining brand familiarity.
It comes off the back of research into consumer purchasing behaviour, acknowledging the difficulties of standing out in the freezer section, said the brand.
Linda McCartney's MD Nadine Maggi said the new packaging "really encapsulates the direction of the brand and addresses issues for consumers in-store".
The new design features vibrant colours and bolder fonts to "highlight the product descriptions and make it easier for consumers to find their favourite Linda McCartney's product", the brand added.
Its rebrand also features creative input from the McCartney family, including a brush stroke texture around the side of the pack inspired by Linda's "artistic style" and a new back-of-pack biography written by Stella McCartney.
Maggi said the family input and new design "rings true to the brand's ethos and continues to resonate with our consumers".
The new look will roll out in October.