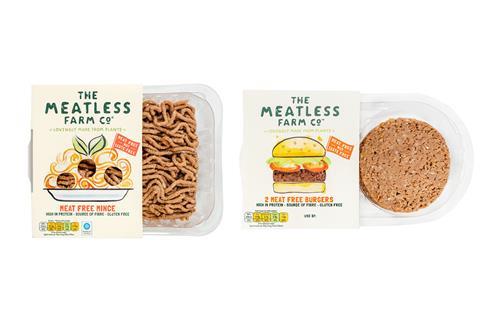 UK-based vegan startup The Meatless Farm Co has partnered with Whole Foods Market to launch in the US, ramping up competition with Beyond Meat.
The company's meat-free burgers, mince and sausages will roll out into 450 Whole Foods stores in the US from next Monday, with an rsp of $5.99 for two quarter-pound patties and $7.99 for a 14-ounce pack of meat-free ground.
The launch follows "sell-out success" with retailers in the UK, Canada, Europe and the UAE, which generated a "phenomenal" response, said general manager of North America Kasper Vesth.
"With the meat alternative category in the US moving so quickly, it was a natural choice to expand into the nation and we're thrilled to be doing this with Whole Foods Market," he added.
The Meatless Farm Co has also established new headquarters in New York with plans to open new production and distribution facilities supporting its US expansion in 2020.
Whole Foods was "proud" to stock Meatless Farm Co's 100% plant-based products on its shelves, said global grocery category merchant Parker Brody, as he believes they "will resonate with our US shoppers".
Whole Foods is known for offering customers a wide range of plant-based alternatives, including burgers from Beyond Meat, whose success led to the company's listing on the US market with a $3.8bn valuation after its first day of trading.
Launched in 2018, The Meatless Farm Co claims to have seen "exponential growth" following listings in Sainsbury's, Morrisons and Co-op, becoming "one of the major players in the global plant-based market".
The sector is expected to be worth £4.1bn by 2020, according to the 2018 Meat Substitute Market report by Visiongain.