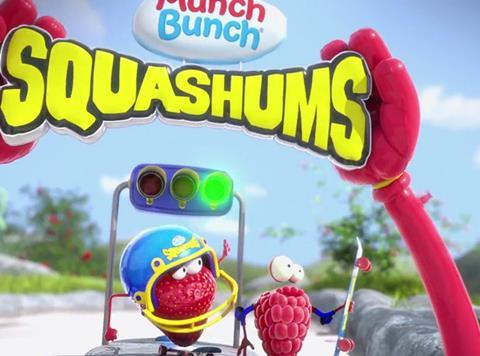 Lactalis Nestlé has launched a new TV ad to support its recently expanded Munch Bunch Squashums yoghurt range.
The TV ad for the brand's Huge Tubes variant launched this week and will air for three months across a number of channels including Nick, Pop, CITV, Cartoon Network and Disney Channel. The new creative was developed by Ogilvy Paris and depicts a skate race between the range's fruit heroes.
Huge Tubes is targeted at older children and first went on sale in Morrisons at the start of January, before rolling out more widely to other retailers including Asda, Sainsbury's and Waitrose.
Each pack containing three 60g strawberry-flavoured fromage frais tubes, and three 60g raspberry-flavoured tubes (rsp: £1.99).
The original Squashums range is targeted at younger children and was launched in 2006. It is packaged in 60g fruit-shaped shells, which allow consumers to squash the yoghurt into their mouths.
"Handheld is an important sector and we have identified a clear gap in the market with Huge Tubes," said Lactalis Nestlé Chilled Dairy brand manager Marie-Laure Danican.
"Our brand new TV campaign demonstrates our confidence in the product and forms a key part of a 360° marketing campaign to raise awareness and inform parents of this innovation, including PR, social media and POS."