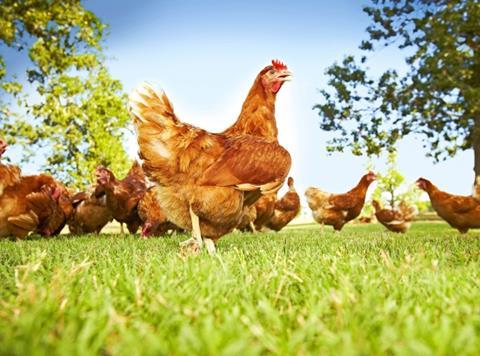 Happy Egg Co owner Noble Foods has become the first supplier to be ranked among the top tier of global food companies for animal welfare.

Noble Foods picked up top marks in the annual Business Benchmark on Farm Animal Welfare (BBFAW) audit, which provides a review of how 90 of the world's leading food companies are managing and reporting farm animal welfare practices.

The report, compiled in collaboration with Compassion in World Farming, World Animal Protection and investment firm Coller Capital, applauded Noble Foods - which came under fire from animal charity Viva! in 2010 over alleged poor conditions on one of its farms - for implementing a raft of animal welfare targets.

These included a commitment to reduce the reliance on infra-red beak trimming and targets such as introducing pre-slaughter stunning on all its farms this year, reducing bird travel times to slaughter, and a pledge that at least 70% of its birds would be free from confinement by 2020.

Noble Foods was joined by retailers Waitrose, M&S and Switzerland's Coop Group as top-ranked companies that have demonstrated leadership in animal welfare, while the likes of the UK's Co-op Group, Cranswick, Sainsbury's and Marfrig were ranked in the second tier and identified as organisations that saw animal welfare as "integral to business strategy".

Tesco, Walmart, Greggs and FrieslandCampina were all ranked in the third tier of companies, seen as businesses that had established animal welfare targets but had work to do, while Arla Foods and Morrisons fell to the fourth tier of companies, which the report identified as "making progress" on the implementation of animal welfare practices.

Other notable food companies included 2 Sisters Food Group, which was elevated from the fifth to fourth tiers, while Dairy Crest fell to the fifth tier, which identified businesses as having animal welfare on the agenda, but offered "little evidence of implementation".

Müller was ranked in the bottom group, with the report claiming there was "no evidence" of any welfare targets on its business agenda. But in response, a spokesman for the company said all of its dairy farmer suppliers were Red Tractor Farm Assured and regularly inspected. A Dairy Crest spokeswoman added that the company "recognises the importance of animal health and welfare" and insisted all of its farmers were also Red Tractor certified.

"The results show that it is realistic for companies across the world and in all sub-sectors - retailers, wholesalers, restaurants, bars and producers - to aspire to and achieve high scores in the Benchmark and to recognise the responsibility they hold for the welfare of animals in their supply chains," said BBFAW executive director Nicky Amos.
"Leading food companies are not only acknowledging farm animal welfare as a critical business issue, but also reporting and improving upon it year on year," said CIWF CEO Philip Lymbery. "This vital tool is providing an objective movement towards a more honest and compassionate food industry, and we are delighted to be at the forefront of it."
However, a Morrisons spokesman questionied the methods employed by the audit, and suggested the retailer's position reflected "the fact we have less publicly available information on our work and our position on key issues" than other organisations.

"We take animal welfare very seriously and are continually challenging suppliers to raise standards further," he added. "We have discussed this with CIWF and have an action plan that should see our tier three position reinstated when the league is published again."