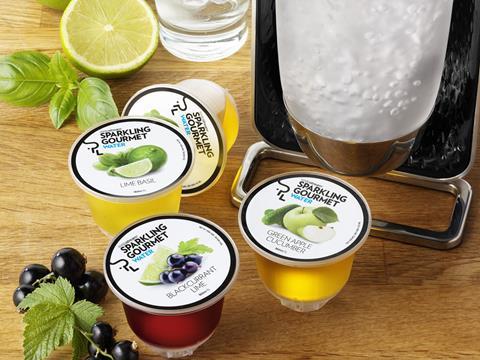 SodaStream has expanded its single-serve 'Caps' format with a range of 'gourmet' flavours.
The four-strong Sparkling Gourmet range, available now, comprises Blackcurrant & Lime, Coriander Apple Blossom, Green Apple Cucumber and Lime & Basil flavours. They carry a £4.99 rsp for a four-pack of the brand's single-serve capsules, which are 'popped' on the top of the bottle then pressed down to release the flavour.

The "unique" flavour combinations, created by Michelin-starred chef Paul Liebrandt, would inspire consumers to "have fun" with their sparkling water consumption, said marketing head Rachel Smith, adding the quartet showed the versatility of SodaStream.
"With an existing array of sparkling water flavour mixes, we wanted the easy-to-use caps to offer something a bit different, a bit of theatre in the patented technology and a lot of sophisticated flavour using natural ingredients."

Liebrandt, who has cooked for some of the world's most esteemed restaurants and chefs, including Marco Pierre White and Raymond Blanc, said: "This partnership gives me the chance to share my flavour memories of herbs, flowers and fruits and being creative in the medium of gourmet sparkling water is a unique and exciting opportunity."

The NPD follows SodaStream's launch of two new ranges last month - Waters Zeros and Waters Fruits, both designed to tap the boom in water-enhancing products.