The price war is escalating -and as price comparison sites and retailers' price match pledges squeeze profits on brands, the hostilities have taken an unexpected turn.

Many supermarkets have a new weapon of choice: own label. But they're not fighting the war purely on low prices. Increasingly, they're looking to boost margins by charging a premium for clearly differentiated own-label products.

Own label's share of shelf has grown over the past year, at the expense of brands. Last month, Waitrose delisted most of its Tropicana and Copella lines to make way for a slew of new own-label juices, as Sainsbury's gave pride of place front of store in the run-up to Easter to a new range of By Sainsbury's chocolate eggs, instead of brands.

The upshot is that own label now outsells brands in Sainsbury's [Kantar Worldpanel 52 w/e 2 March] and the balance looks set to swing further in own label's favour, with even Morrisons, which has the lowest own label share of any of the big four, unveiling big plans for own brand.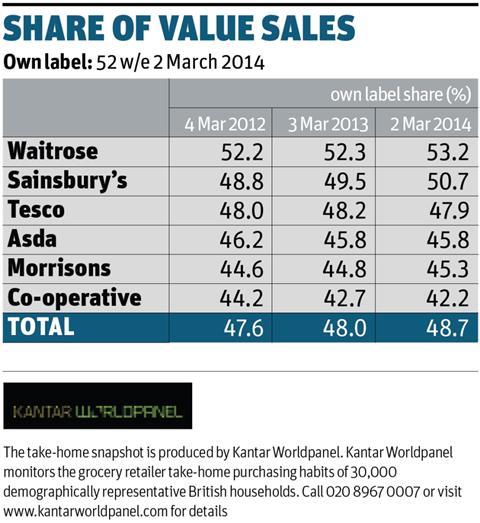 While Tesco and The Co-operative Group have bucked the trend, losing own-label share, and Asda has maintained its share [Kantar], that could be set to change in light of the price war and a more militant stance from the likes of Morrisons, Sainsbury's and Waitrose. So are we on the brink of a new own-label arms race?

It's going to be an own-label Easter at Sainsbury's. "We've decided we're going to do things differently - we're absolutely taking on the big brands," says Susi Richards, Sainsbury's head of own-brand product development. "This year we have a much higher ratio of own-brand to branded eggs."
" Brands are putting more money into deeper deals. They are giving away more money"

Tim Eales, IRI
Morrisons also has plans to increase that ratio. In fact, it was news of its plans to extend own-label - as part of a three-year, £1bn spend on price and promotions that will cut profits by more than 50% - that first sparked fears of a new price war in March. It has since formed an own-brand unit to help it compete with the discounters, which are stealing growing share from the mults with the promise of own-label products of the same quality as the brands, but at a much lower price.

Price hikes

It's significant that the three best-performing retailers at present also have the largest own-label ranges as a percentage of revenue. Own label has accounted for 88.1% of Aldi's sales in the past year, 75.6% of Lidl's and 53.2% of Waitrose's; and all three have seen that share increase over the past 12 months [Kantar].

But don't be fooled into thinking this is all about piling high and selling cheap. In fact, own-label prices have risen 2.6% over the past year, almost 50% more than the brands and that has narrowed the price gap between the two from 27% to 23% over the course of the past year [IRI 52 w/e 1 March].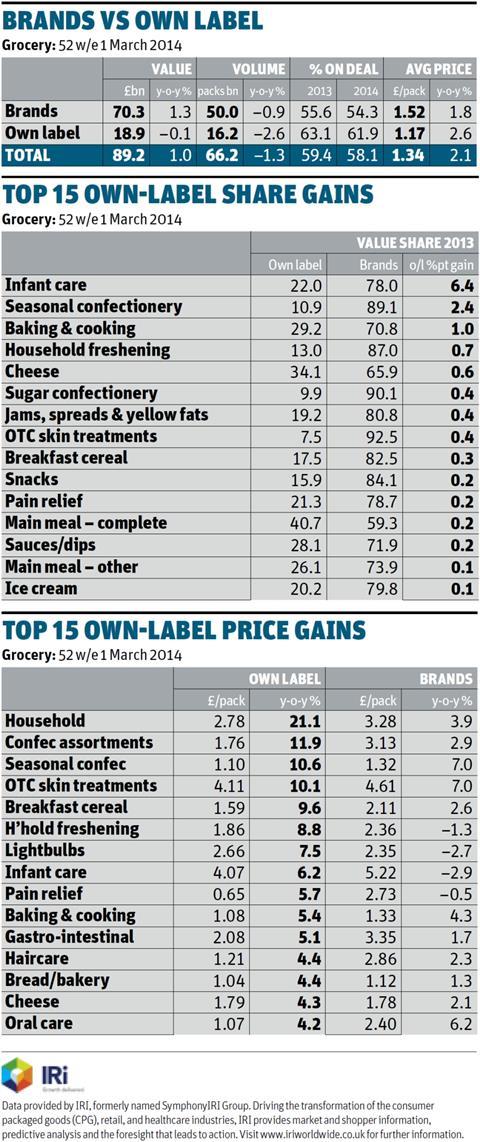 This, says IRI head of insight Tim Eales, is partly driven by deepening branded deals, though it's worth noting that volume sold on deal has fallen for brands and own label alike in the past year. "Brands are putting more money into dealing deeper on discounts," he says. "They're giving away more money."

As are the retailers, when their price-match schemes oblige them to refund the difference between their own and rivals' prices. This means that for as long as the supermarkets are pledging to match rivals' prices on comparable goods, margins on such goods will continue to be squeezed.

Hence the growing focus on upper-tier, higher-margin and clearly differentiated own label (Kantar puts premium own label's total grocery share at 2.8%). If executed well, such ranges can attract shoppers by providing goods that cannot be bought elsewhere.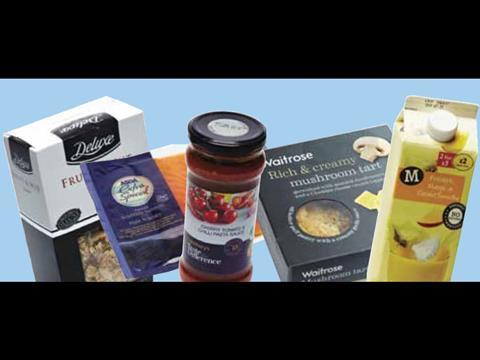 A reduction in promotions by retailers across every grocery sector except healthcare has increased own-label prices (by 2% in the last four weeks), netting them an extra £50m.
The price gap between brands and own label has narrowed as branded deals have deepened and retailers have increased prices on own label.
We expect this to continue as retailers increase their focus on premium own-label ranges, but a price war could force the gap to widen again as retailers try to compete.
Own-label ranges still provide value savings for shoppers, but the savings have lessened. Private label costs on average 23% less than national brands, down from 27% less in the previous year.
Shoppers have saved more than £800m by switching to lower-priced goods in the past year.
Retailers must address assortment. Own label often takes priority on the shelf, but retailers must avoid giving too much space to own label as this can turn off consumers.
National brands spend huge amounts of money on marketing to drive shoppers into store and the importance of their presence on the shelf must not be underestimated.
Tim Eales, IRI
And they'll keep coming back, as Waitrose has proven with its premium Heston and Duchy Originals own label ranges. Partly by offering unusual lines such as Earl Grey Gin and Hidden Clementine Christmas Puds, its premium own label share has doubled to 1.6% of revenue since 2012 [Kantar].

Posher own label

When it comes to pushing posher own label, Sainsbury's has led the way, however. Taste the Difference now accounts for 4.8% of sales - the highest share in the UK [Kantar] - and Richards says there's room for more growth.

In fact, she suggests further development of TtD will be key if Sainsbury's is to hold on to its share of the market: "Brands are no longer competitive because you're paying the same price wherever you go. That's where own brand becomes the real competitive area, where you have to differentiate. You have to offer the best quality at the best price."

Still, the push to posher own label is undoubtedly pushing up prices. For example, the average price of chilled ready meals under the Tesco Finest banner rose 8.5% in the year to 8 December, according to Kantar (a fact not unrelated to the relaunch of Finest last October), yet sales still surged 18.3%, bucking the overall decline in ready meals.

The discounters are going posh too. Lidl claims its premium Deluxe range has had its best-ever year thanks to NPD and high-profile TV advertising. Meanwhile Aldi, which recently topped a ranking of grocery retail's biggest advertisers relative to sales, has developed premium products such as Wild Lobster Tails and Serrano Ham (Lidl has relaunched a similar product for Easter).

Like Sainsbury's, which also launched six Taste the Difference chocolate eggs for Easter, Waitrose is looking to chip away at brands' dominance of Easter confectionery with its new Woodland Friends range of chocolate animals. Such efforts look set to accelerate own label's growth in seasonal confectionery, which has seen the second-biggest branded loss of share in the past year.

But the biggest share swing in own label's favour has been in babycare [IRI]. And it's not all down to Huggies' 2012 exit from the UK either. New own-label lines - such as Tesco Loves Baby's nappies with wetness indicators or 'underwear thin' Lidl Toujours Drylock nappies - have given brands a run for their money in terms of innovation.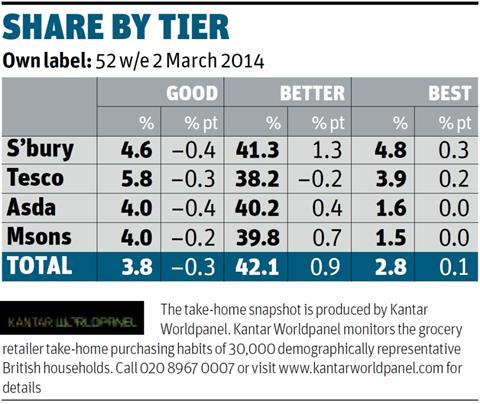 Multiple tiers

The relaunch of the plain old Tesco Baby range as Tesco Loves Baby in January 2013 reflects a growing and "revolutionary" trend in UK own label for retailers to develop ranges with strong branding to tap specific market trends, says Private Label Manufacturers Association president Brian Sharoff.

"The biggest trend is the multiplication of tiers," he says. "Twenty years ago, there was one tier, then a premium tier, and when the economy ran ragged there was an attempt to go budget; now there's everything from organic and natural to Asian tiers. There's an element of where do we go from here?"
" Brands are no longer competitive because you are paying the same price wherever you go"

Susi Richards, Sainsbury's
Claire Nuttall, founding partner of brand consultancy Thrive, has one possible answer. "health is a hot area for growth," she says. "Health is on the agenda for good, not just the next few months. Retailers really should start developing strategies around healthy propositions in store."

Health-orientated brands are already feeling the pinch from own-label ranges such as Waitrose's Love Life and Morrisons' NuMe. Last month, WeightWatchers told The Grocer that the brand's £48.9m retail sales decline [Nielsen 52 w/e 4 January 2014] was partly down to increasing competition from 'healthier' own-label ranges.

Examples abound. The Tropicana and Copella lines pulled from Waitrose last month made space for low sugar and stevia sweetened drinks under the Love Life and Waitrose brands, while Tesco has unveiled a Classic Cola made with stevia and containing 30% less sugar, having already launched reduced salt and fat cheeses in the past year.

"Retailers' health brand identities demonstrates just how sophisticated own label has become," says Katrina Greenock, retail brand manager at Arla, which produces own label as well as branded dairy goods for the multiples. "This illustrates just how well equipped retailers are to take advantage of consumer trends with own-label products."

Tertiary brands such as Tesco's Creamfields and Morrisons' Meadow Park are becoming more important as retailers look to differentiate themselves, adds Greenock: "They give retailers an opportunity to offer an exclusive brand and therefore a point of difference."

Cementing that point of difference will be vital as the price war rumbles on. And increasingly, it won't be brands that allow the retailers to do that, it will be own label. Retailers, choose your weapons…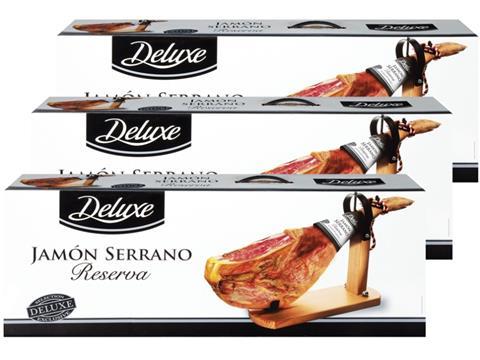 Lidl Serrano ham
Launched: November 2013
First launched in November 2013 as a limited-edition product under Lidl's premium Deluxe range, the Serrano ham sold out in days. Now it's back by popular demand for Easter. The award-winning hams, which are made in North West Spain, are cured for 12 months and have an rsp of £39.99 - proof that consumers are looking for more than just budget own-label goods in the discounters. The product featured in a TV campaign for the Deluxe range in the run up to Easter.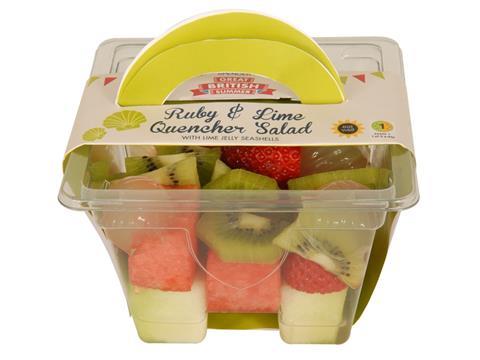 Eat Well Ruby & Lime Quencher Salad
Launched: May 2013
Launched under Mark & Spencer's Great British Summer banner, this fruit salad with jelly pieces (rsp: £3) is an innovative twist on a fresh fruit salad with lime jelly seashells and will return to chillers for the coming summer. The salad of green melon, watermelon, kiwi and strawberries comes in a novelty sandcastle-shaped bucket to tap into nostalgia for childhood summers.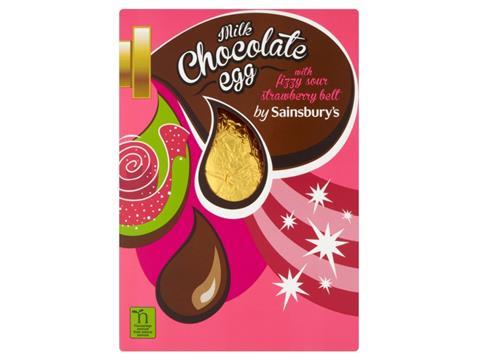 By Sainsbury's Easter Eggs
Launched: January 2014
Sainsbury's has launched this range to grab back some share of the confectionery market from the big brands. The five-strong range is made using cocoa butter and no vegetable oil, and each is packed with gummy sweets, jelly beans or caramel chocolates. Located prominently in-store, the eggs have an rsp of £1.25 but are being sold at the promotional price of £1.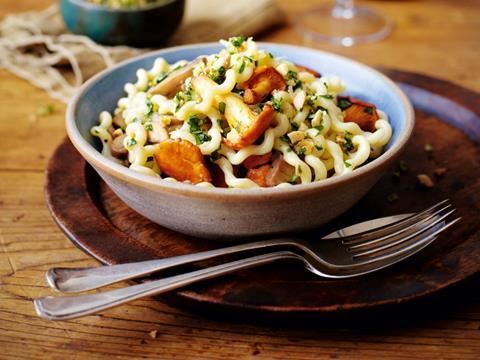 Finest fusilli lunghi col buco pasta
Launched: October 2013
When Tesco Finest underwent a major relaunch in October, it brought about a renewed focus on heritage and quality and the "passionate people" behind the brand. In the case of this Fusilli Lunghi Col Buco Pasta (rsp: £2.40), that's Giuseppe Di Martino, who makes the pasta at his 100-year-old family business in Italy. It takes 30 hours to produce, apparently.