Spread brands are taking a leaf out of Madonna's book and giving themselves a brand new look and feel. Will the efforts pay off?
No one does reinvention quite like Madonna. From the iconic material girl look all the way to her most recent incarnation - Madame X (pictured above) - no one could accuse the queen of pop of standing still.

Sadly, the same can't be said of the butters and spreads market. Attempts at reinvention - see avocado and coconut spreads - have fallen flat quicker than Madonna during her 2015 Brit Awards performance. And rising prices have made butter less and less attractive to today's shopper. So volumes have been on a long downwards trajectory, culminating in 8.3 million fewer kilos sold last year [Kantar 52 w/e 27 January 2019].

In a bid to take back control, brands are taking a leaf out of the reinvention queen's book. With a fresh new look and feel, they're hoping to bring some much-needed rejuvenation to the market.
"Spreads and margarines have struggled in the face of a trend for good fats and naturalness"
Dairy spreads are leading the charge in this area. On the face of it, they are least in need of a makeover. Along with sunflower spreads, they are one of the only areas of volume growth in the market, selling an extra 4.4 million kilos [Kantar].

But that has more to do with the failings of butter than the success of spreads, says Kantar analyst Michael Ndukwe. While block butter prices are up more than 13%, dairy spreads have only inched up 2%. That has pushed shoppers towards the latter. "Shoppers are looking to manage their spend in response to price rises," says Ndukwe.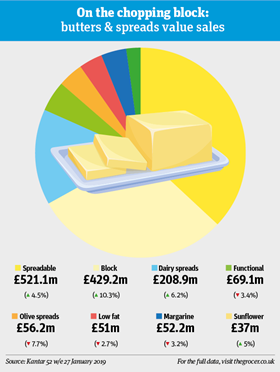 In terms of image, spreads have more work to do. While positive associations are growing - Kantar says shoppers increasingly believe that spreads deliver on taste - they are still seen as less natural than butter. Hamish Renton, MD of consultancy HRA Global, says this has been their downfall. "Spreads and margarines have struggled in the face of a trend by shoppers towards good fats and naturalness," he says. To truly capitalise on the "burning off in demand of butter", Renton believes spreads must address these issues.

That insight has inspired a shake-up at Flora. The brand has had a tough time of late, having suffered a 3.9% value drop to just under £82m [Nielsen 54 w/e 24 February 2019]. Volumes have fared even worse, down 9.4% or 3.4 million kilos. That equates to the "most significant volume deficit" in the entire category, says Nielsen senior analytical executive Amy Duffy.

It's not for a lack of trying. A series of packaging updates over the past three years and an unsuccessful push into spreads blended with coconut and avocado have done little to turn Flora's fortunes around.

Duffy says Flora's decline this year has been exacerbated by a drop in sales of its core 500g lines amid a reduction in promotions.
Reformulation
So in March, the brand took action. It reformulated to become entirely plant-based, boasting an on-pack tagline of '100% plant goodness' alongside the return of the sunflower motif. The number of ingredients fell from 14 to seven. At the time, parent Upfield hailed the reformulation as a step change. "Plant-based nutrition is at the heart of the Upfield business and Flora, with its plant goodness, is set to lead the charge and marks a key moment for us," said general manager for the UK and Ireland Steven Hermiston.

Today, he stresses the key benefit of the reformulation is the taste. "There's no point making all these changes unless the product tastes great, and I think we've hit a sweet spot there." Both shoppers and retailers have enjoyed Flora's new taste, "naturalness and 100% plant goodness", he adds - though he stops short of confirming whether the revamp has translated to an upturn in sales.

Sales lift or no sales lift, Upfield clearly believes it's on to a winner. It is set to replicate Flora's plant-based credentials across other brands. "This is the first brand to get revived, but we also have exciting plans for the rest of the portfolio," says Hermiston.

It could certainly do with a boost. Other brands in the portfolio - Bertolli, Flora ProActiv and Stork - are losing value and volume. Still, Hermiston remains confident. He says KKR's takeover of Unilever's spreads division in December 2017 has offered a fresh perspective. Upfield now has a renewed "commitment to the category and growth", he says, and shoppers will see "a return to ensuring we are developing products that are entirely focused on the consumer".
"Price-conscious shoppers have moved away from block and spreadable butters"
That focus does appear to be sharp. For now may prove exactly the right time to court the plant-based shopper, who tends to be at the younger end of the spectrum. Kantar's Ndukwe says it is largely the "younger, more price-conscious shoppers who have moved away from block and spreadable butters and increased their purchasing of less expensive dairy spreads, low-fat and dairy-free options".

So plant-based spread options will not only be easier on their wallets, but "can also cater to the growing trend of health-consciousness we are seeing across grocery", he says.

It's not just Upfield that has spotted the potential of the younger, health-conscious consumer. Dairy Crest was arguably the pioneer of this strategy with the reformulation of Clover Original spread to contain no artificial ingredients in 2015, recently followed by a reformulation of Clover Light. And it's paying off. Clover is fast closing in on Flora as the third-biggest brand in the category, with value sales climbing 10.1% to £74.2m. Crucially, volumes are also up 10.8%.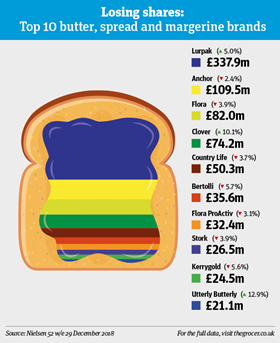 Clover "ticks all the boxes that matter to consumers these days", says Stewart. That includes a buttery taste, low fat content, no artificial ingredients and accessible pricing.

Another brand going for the virtuous consumer is Dairy Crest's vegan spread Vitalite. It may have suffered the delisting of its coconut variant last May, but Stewart says it is outperforming dairy-free spreads as a whole, which suffered a 2.1% drop to value on volumes down 0.2% [Kantar].

He references IRI data for the year to 23 March 2019, which puts Vitalite's value sales up 53% to £10m. The brand is doing so well because of the growing popularity of dairy-free products, Stewart suggests. "People are choosing dairy-free as a positive lifestyle choice, rather than a reaction to an allergy or intolerance. That's what has shifted."

Still, there remains plenty of room for brands that don't offer free-from or all-natural credentials. That much is proven by Dairy Crest's stablemate Utterly Butterly, which makes no natural claims, and includes colours and flavourings. Despite all the above, it is one of the strongest performers in the top 10 brands (see above), up 12.9% in value on volumes up 14.9% [Nielsen].
"People are choosing dairy-free as a lifestyle choice rather than due to an allergy"
That data suggests there has been a decrease in price, and Stewart makes no bones about its "unashamedly great value" being a selling point. "It's a product for the most hard-pressed families. Just because money is tight, it doesn't mean people should accept a lower standard and a poor taste."

As he suggests, price remains a key consideration in the market. In fact, 60% of consumers in our exclusive poll with Streetbees said it was their most important consideration. It's a harsh truth to face for innovative brands, who are finding prices increasingly outside their control.

That's particularly true in butter. Commodity butter prices topped a record £6,000 per tonne during the summer of 2017. While they have been falling steadily since that point, commodity price inflation still affects the category. The average price of block butter is up over 13%, while spreadable has increased 7.4% [Kantar].

It has proved one pressure too many for certain brands. Take Anchor, for example. It took a 12.6% hit to volumes according to Nielsen data, though value only fell 2.4% due to rising prices.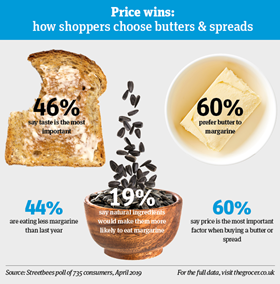 It's far from the only brand to see higher prices push away shoppers. Country Life suffered an 11.4% blow to volumes, while Kerrygold was down to the tune of 18.3%.

Ornua Foods UK marketing director Mike Harper admits Kerrygold has suffered from the "big differential" in price between plant-powered spreads and butters.

"There are some very interesting dynamics at play at the moment, with price playing a very important part in shifting consumers to spreads," he says.

"But I'm not massively concerned if I'm totally honest," he adds. "Kerrygold sales are down. But a lot of that is down to a drop in our Spreadable volumes: we pulled out of Spreadable in the UK last year and our block volume is strong."

Much like Müller's Spreadable butter, which was pulled earlier this year following delistings by both Tesco and Waitrose, Kerrygold's Spreadable variant was the right product at the "wrong time" and suffered as the price of butter escalated.

"With the price shifting so dramatically, to support a significant investment strategy in the brand at that time just wouldn't have been viable," Harper says. "So we decided, if we couldn't make a significant impact on the category, we would make the proactive decision to delist." Instead, Ornua has focused on the core Kerrygold block at its higher rsp, and its existing Softer variant. And as a result, the brand's core shopper base "has never been stronger", Harper stresses.
"Spreadable is where the growth is coming from - it's a convenient, tasty and natural product"
Arla Foods UK's senior director of marketing Stuart Ibberson also maintains the butter category has held up well. Despite the resurgence in spreads, he points out block and spreadable butter still make up two thirds of the market.

Ibberson says its Lurpak brand had a good 2018 and has started 2019 well, as demonstrated by its 5% increase in value on flat volumes [Nielsen]. Lurpak's block sales have struggled, Ibberson concedes. But given Lurpak Spreadable represents more than £300m of the brand's £337m sales, he is relaxed. "Spreadable is where the growth is coming from," he says, as it is a "convenient product that is natural and tasty".

Arla has also invested in innovation. Ibberson says Lurpak Spreadable and Softest, which launched last May, helped it avoid the same fate as many other butter brands. "Softest was a great piece of insight and consumer-driven NPD," says Ibberson. "We supported it with TV and shopper activity, and it's been very successful, giving us incremental sales on the Lurpak brand."

So successful, in fact, that Arla unveiled an Anchor Softest variant in Asda last month, with a wider distribution due over the next few months.

So even though Ibberson admits Anchor "has been more affected by inflation" than Lurpak - a higher percentage of the brand's sales are made up from block - he insists the brand is in good health. Its spreadable sales are in small growth and Anchor won a Grocer Gold award last year for a packaging relaunch playing on its West Country roots (an ironic move, given the outcry in the early 2000s when Arla started producing the New Zealand-manufactured brand in the UK). Earlier in May, Anchor underpinned these credentials with the launch of an ad campaign celebrating its Britishness.
Innovations in butters & spreads 2019
Provenance
This touches on another selling point in today's market: provenance. Arla's Ibberson says this is "very appealing to consumers" and he's not the only one who thinks so. Dairy Crest's Stewart points out Country Life is "the brand of the British countryside". That selling point could become even more important following Dairy Crest's recent acquisition by Canada's Saputo, which looks set to open doors to a wider export market.

For now, Stewart says the brand has benefited from a tie-up with tourism bodies English Heritage and Wales' Cadw, offering two-for-one entry into visitor attractions.

"It has connected with a lot of consumers, particularly that over-50 segment that still values the British countryside and its way of life," he says. "On the back of the promotion we are starting to see improving numbers for the brand."

Also focusing on provenance is Ornua, which will launch a Kerrygold ad push later this year designed to play up its grass-fed, Irish generational farming.

With these efforts, he believes butter might just be able to steal back growth from the innovative spreads market. But to convince shoppers to fork out for ever-increasing prices, they will have to rival Madonna in the reinvention stakes.


Kevin is The Grocer's fresh foods editor, overseeing our coverage related to the retail fresh foods sector, including dairy, meat, fish, poultry, fruit & veg and eggs, as well as the plant-based foods category.

He also assists in production of The Grocer's annual Dairymen supplement, while also writing about food commodities, sourcing, sustainability, politics and regulation; and has appeared as a commentator on both radio and TV on the state of the UK food industry.

Prior to joining The Grocer in 2014, Kevin wrote about retail financial services for a Financial Times business publication, and began his career as a journalist working for regional newspapers in Wales.

Follow Kevin on Twitter: @KevWhite77