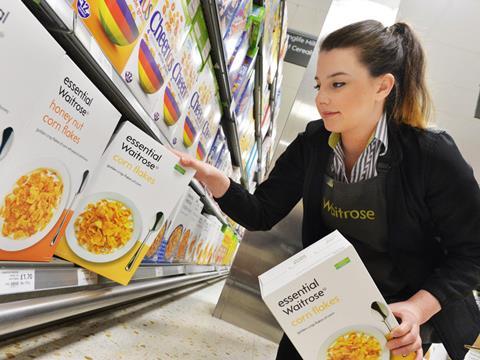 Cereals has become the latest category in the spotlight for Waitrose, as the retailer continues its range reset.

Since August almost 50 cereal SKUs have been delisted by Waitrose, including from brands owned by major suppliers Kellogg's, Weetabix and Eat Natural.

Just 11 new products have been added by the retailer in the period.

Eight of Kellogg's 47 SKUs have been delisted since 14 August, while Weetabix has lost six of its 29 lines. Two of Eat Natural's eight lines have been removed. Mornflake has lost two of its five listings while both Up & Go lines have been pulled, according to research conducted by The Grocer using Brand View.

Other brands to lose listings in the fixture include Quaker with three, four for Jordans, and four own-label lines.

One leading cereal brand that saw its SKUs delisted as part of the category review told The Grocer its products were discontinued because they were "underperforming".
A spokesman for the brand said the delistings were "anticipated as part of the overall category review", adding that it still had a "good working relationship with Waitrose overall".

A Waitrose spokeswoman said it had focused on providing healthier cereals in the reset, which it had found to be "the biggest area of growth" in the category.

"We also ensure our range is as easy as possible to navigate around in our stores by grouping areas that matter most to customers, such as family or health," she said.

The cereals review follows resets across Waitrose's yoghurt, cheese and bread ranges.

The overall process aimed to "ensure the range is absolutely right for customers, remove duplication and differentiate from competitor ranges", added the spokeswoman.