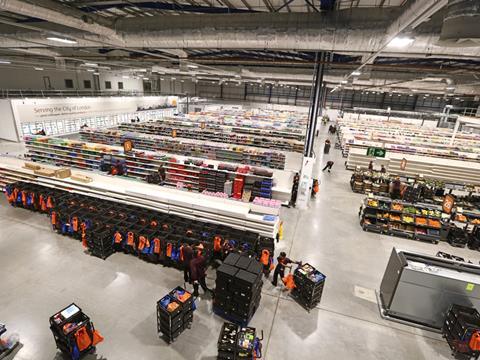 Sainsbury's has opened its 185,000 sq ft online fulfilment centre in East London today to meet the rising demand for grocery delivery in the capital.
The centre is four times the size of an average Sainsbury's supermarket and can fulfil 25,000 customer orders per week using a "giant" automated system, which the retailer described as "the first of its kind in the UK".
The system includes 1.5km of conveyor belts, which can carry more than 7,000 crates per hour to Sainsbury's fleet of more than 160 vans.
Sainsbury's hailed the opening as a "milestone" in meeting the needs of Londoners, as it expects online orders in the capital to double by 2024.
Nearly 500 people will work at the centre initially, but this number is expected to grow to 930 by 2020.
"Operating day and night, this state-of-the-art centre with its cutting-edge technology will enable us to handle exceptional volumes at high speed," said Sainsbury's director of online Clodagh Moriarty.
The centre is part of Sainsbury's continued investment in its online division, which saw it begin offering same-day delivery from three stores in and around London in July. It is also trialling one-hour delivery in Wandsworth, South West London.
Sainsbury's experienced a 9% growth in online sales and 15% growth in orders last year. At the presentation of its annual results in May, chief executive Mike Coupe revealed demand was particularly high in the capital.