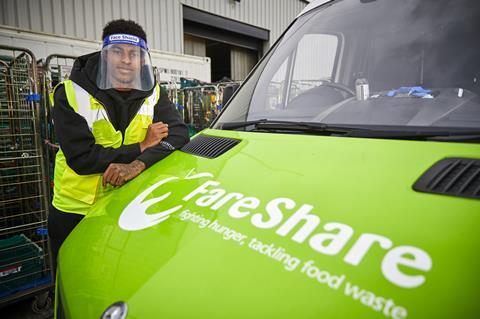 FareShare has delivered 130 million meals to vulnerable people in the past year with the help of major supermarkets and footballer Marcus Rashford.
It is an average of four meals every second to vulnerable children, families and individuals, and a doubling of FareShare's usual redistribution work.
The UK's biggest food charity said support from Rashford and many of the UK's major supermarket chains had helped it meet the challenge of soaring demand during the pandemic.
FareShare has named a new warehouse Melanie Maynard House after Rashford's mother, in recognition of the 23-year-old Manchester United star's work. The site was acquired in Manchester's Openshaw last year, with funding from Asda, and is due to open this summer after refurbishment.
Rashford first partnered with FareShare in March 2020, over concern vulnerable children could go hungry with schools closed. In September, Rashford spearheaded the Child Food Poverty Taskforce, backed by FareShare and a string of supermarkets, which successfully lobbied the government to raise the value of Healthy Start vouchers for low-income families from this April.
FareShare said Rashford's powerful campaigning had put child poverty at the top of the news agenda, while donations from the footballer, his fans and followers alone had funded the redistribution of food equivalent to over 21 million meals since March 2020.
"It has been a real pleasure being on this challenging but rewarding journey with FareShare over the last year," Rashford said.
"The staff, the volunteers and the families I have met have been incredibly supportive and brave with the stories they have shared with me. I've made no secret of my desire to see the end of hunger and food insecurity but for the need we have right now, FareShare are doing a phenomenal job and I will continue to provide them with as much support as they need."
FareShare CEO Lindsay Boswell said: "We can't believe a whole year has passed since we first joined forces with Marcus Rashford and more recently the taskforce members. The impact of the Covid crisis has meant the need for food support has never been greater, particularly among children and families, but with Marcus as our ambassador, and standing shoulder to shoulder with taskforce members, we have never been better placed to step up to the challenge and support communities in need.
"Marcus' compassion and authenticity by sharing his own personal experiences is what has made his campaigning so powerful, and we couldn't be more grateful for his support. Working with Marcus and as part of the Child Food Poverty Taskforce, together we have truly built public and political will to tackle the issue of child food insecurity and we look forward to building on the achievements of the past year, as we work to a hunger and food waste-free future."