In May 2013, a group of 14 women from the world of fmcg flew to Kenya to dig a pond that women from the village of Bumala could turn into a fish farm. The group spent four days shovelling mud and ended up with a hole in the ground the size of an Olympic swimming pool.

Two years later, many of the same group took off on another mission, this time bound for Babati, in Tanzania, to build 90 beehives so villagers could get into the beekeeping business. Armed with hammers, nails and paint, they completed the job in 72 hours.

Both projects were organised by Farm Africa, which works with African farmers to create business opportunities in the belief they are key to long-term rural prosperity in Africa. So what's happened since? Is the fish pond teeming with tilapia? And is the beehive business buzzing?

Fish farming is not as simple as it sounds. Bats are fond of swooping down to carry off a tasty tilapia for a nighttime snack. And the River Nzoia frequently floods, which in turn floods the fish ponds, which means fish get swept away. Meanwhile the soil around Bumala is loose and sandy, which makes the pond dykes weak and prone to collapse.

So the fact the Afula group is now managing a total of seven fully stocked fishponds after reinvesting profits from the original is testament to the Farm Africa concept, and the hard work and business savvy of the villagers themselves.

And they aren't just addressing the challenges nature throws up by increasing volumes. The group is also reinvesting profits to create raised fish ponds, which mitigate the risk of flooding or collapse. They are also much smaller and closer to their homes and each of the 15 members of the group manages at least one raised pond - so you could say the Afula group now has 22 fish farms. The group has also joined the local fish farmers' cooperative, enabling it to sell in bulk via the Nangina fish auction centre and receive higher prices than if they sold them on an individual basis.
"Farm Africa is my mother and father. They have showed me how to put food on my table through fish farming"
"Farm Africa is my mother and father," says Afula group chairwoman Helen Naliaka. "They have showed me how to put food on the table through fish farming. Initially my land used to grow wild shrubs since I could not grow anything in the marsh, but now I have fish and can pay for my grandson's school fees."

The group has carried out three fish harvests in the three years since the first pond broke ground. On average, they harvest 109kg of fish from each pond, which are sold for KES32,700 (around £240), which is enough for the farmers to turn a profit (which pays for food, school fees and village savings) but also reinvest in new fingerlings, fish feed and maintain the ponds.

The group has also been involved in Farm Africa's new Kenya Market-led Aquaculture (KMAP) programme, which aims to help fish farmers further increase production and gain access to high-value markets. Nafula Omallo, who has seven fishponds, was selected to join the first phase, and two other women from the group, Faith and Helen Naliaka, will join the second phase of selection.
As for what's next, each member is eyeing up purchasing a pelleting machine to make fish feeds as the entire group currently shares one. They also want some cooling machines and deep freezers to preserve harvested fish and sell them to national markets. And it's investigating farming fish in cages 20 miles away in Lake Victoria.

Beehives

Five hundred miles away, across the border from Kenya to Tanzania, the number of beehives built by the British women in Babati alongside the Erri community has grown from the original 90 to 165.

Some 25 beekeepers operate in the village including 10 women, who were previously prohibited by tradition and customs from climbing trees to access traditional beehives suspended from tree branches.

"As a woman, now I can contribute to the family's income and reduce dependence on my husband for fulfilling family needs," says group member Joyce Lali.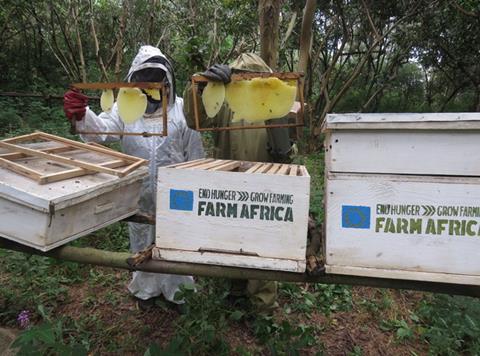 Business is brisk. The group produced 1,650kg of honey last year, of which 1,100kg was sold and 550kg was consumed as food and medicine.

The honey was sold for 10,000 TZS/kg (£3.40) making a total of TZS11m (£3,745), of which 1,875,000 TZS (£640) was reinvested in the construction of the 75 new beehives. As a result, earnings are expected to rise in year two.

The group also plans to diversify, so profits have been used to buy materials and equipment that can produce lotions, candles and medicines.

Remaining profits have been used to pay school fees, buy food, and pay hospital bills. And the plan is to keep expanding the number of hives so every member has at least 10 beehives. That would take the number to 250 and allow the village to establish a honey processing industry.

The group plans to further increase the number of beehives so that every group member has at least 10 beehives and the village can establish a honey processing industry.

It's admirable, says Farm Africa CEO Nicolas Mounard. "Beekeeping in the Nou Forest in Tanzania and fish farming in Kenya are two great success stories," he says. "And they are examples of how food businesses have the power to lift smallholder farmers out of poverty, while conserving the environment for generations to come."