On a steep hillside in Elgeyo-Marakwet, Kenya, Lucy Marani proudly points to a neat row of French bean plants. Those beans, says the mother of seven, are the reason her family's finances are now secure. Beforehand she had grown garden-variety peas to sell to local markets, only searching for a buyer once she had the produce ready. "By the time I found a buyer, the crops would have rotted. Some went unsold and we would make losses.
The catalyst for switching to the more profitable green bean is Marani's participation in the Growing Futures project. A Farm Africa initiative, the project supports Kenyan farmers out of poverty by helping them to diversify their crops, growing French beans as well as mangetout, tomatoes and cabbages, for domestic and international markets. Working together in groups, they create business plans, sell aggregated produce in bulk and stagger planting schedules to ensure a consistent supply of high-quality produce to buyers. "I have learnt from Farm Africa to manage my money, about book-keeping, financial literacy, leadership, good governance and marketing," she adds.
Marani is one of 2,000 additional farmers that the Growing Futures project has been able to reach thanks to an appeal that raised £410,000 in 2018. The government-matched donations enabled the charity to roll out a new phase of the scheme focused on those living in Elgeyo-Marakwet, replicating the earlier success of its work in the neighbouring county of Trans-Nzoia, which had been funded by Aldi UK.
There, 446 farmers from across 23 farmer groups were enrolled in the project, enabling them to sell produce worth £230,000 and boosting incomes across the group by £165,000. On average, farmers taking part saw income increase by 49.5%.
Growing Futures supports Kenyan farmers out of poverty by helping them to diversify their crops, growing French beans as well as mangetout, tomatoes and cabbages
The decision to offer support in Elgeyo-Marakwet next was as a result of its reliable growing climate and current low levels of support for farmers, says project co-ordinator Mary Nyale. "Livelihood opportunities for rural youth in Elgeyo-Marakwet are extremely limited," she adds. "This, in combination with high poverty levels, is driving increasing levels of youth migration to urban centres in search of work."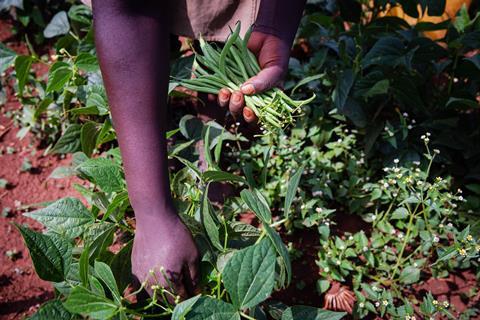 Though agriculture makes up the central livelihood of this rural population, it is characterised by subsistence farming that fails to offer reliable incomes. "The Growing Futures project is helping develop sustainable employment opportunities for young people by enabling them to develop business and production skills and create profitable, commercially-orientated horticulture enterprises," adds Nyale.
Funds have already been spent to recruit new staff and set up a local office in the county. New farmers have been trained on leadership and governance and mobilised in groups. "The funding will pay for the groups to receive training and technical assistance in horticulture and agronomy, business development and Global Good Agricultural Practice (GLOBALGAP) to help them meet export markets' standards."
In the future, Nyale and her team hope to use further funds to offer support on the management of water and soil, building a "clear, transparent and accessible value chain" that enables farmers to become fully autonomous business owners. Like Marani.
"The project has changed my life," she says. "I was excited about growing French beans because there was a market for them. I was excited to know I would be able to earn income to send my children to school."
All donations given until 8 May 2019 will be matched by the UK government and support Farm Africa projects. To donate go to farmafrica.org/coffeeislife or call 020 7430 0440.