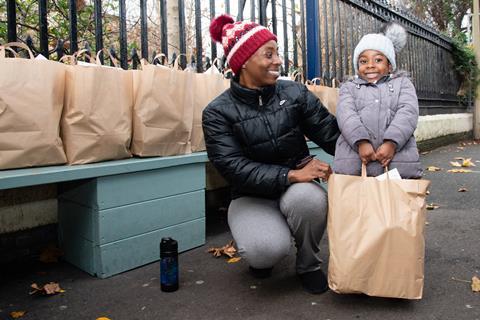 The School Food Matters charity has delivered one million breakfast boxes to children affected by coronavirus over the past year.
The programme was mobilised in the London boroughs of Lambeth and Southwark during the first lockdown in May 2020 in response to soaring numbers of children and young people that had been pushed into food poverty as a result of the pandemic.
The charity supplied breakfast boxes throughout school closures and the holidays funded by Impact on Urban Health, part of Guy's & St Thomas' Charity, the Food Power for Generation Covid initiative and donations from the public.
School Food Matters found that the need for breakfast boxes went further than those children that qualified for free school meals, with research showing one in four families not eligible were in need.
"Children in Britain deserve to have enough nutritious food to ensure they are healthy and able to thrive," said School Food Matters CEO Stephanie Slater. "The pandemic has highlighted the urgent need to review school food policy and funding. We must use this moment as an opportunity for change. We support the National Food Strategy's call on the government to expand entitlement to free school meals, so that every child receives the food they need to thrive."
Rebecca Sunter, Impact on Urban Health's portfolio manager, childhood obesity, has called on the government to fund universal "nutritious breakfasts" as part of a review of the school food system.
Allen Edwards Primary School assistant headteacher Nicola Harris said: "These boxes have been such a lifeline for parents, during a period of severe economic stress. They have absolutely loved the healthy food, commenting on how tasty the kids have found the fruit. And it became an important way for us to keep connected with our vulnerable families, beyond their food needs. It has brought us together as a community."