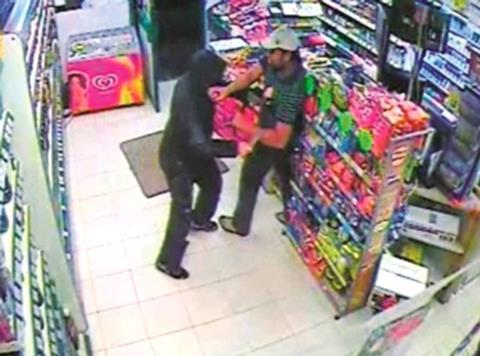 Violence and abuse against retail workers has escalated, and the cost of crime and crime prevention to the industry has spiralled to more than £2bn, according to a new survey from the British Retail Consortium.
Its annual retail crime survey showed incidents of violence and abuse against shop workers rose to 424 per day, up 9% from the previous year.
The increased use of weapons, particularly knives, remained "a worrying trend", the BRC said
Despite retailers spending a record £1.2bn on crime prevention from 1 April 2018 to 31 March 2019, the losses resulting from retail crime climbed to £1bn, which included more than £770m from customer theft.
It brings the total cost from crime and crime prevention to £2.2bn, an increase of 16% on the previous year's £1.9bn.
A majority of the retailers surveyed by the BRC said the police response to violence against shop workers was 'poor' or 'very poor'.
The BRC is lobbying parliament to introduce legislation to make assaults on retail workers a specific criminal offence. This is combined with calls for police forces across the UK to prioritise retail crime and improve their response to incidents.
"Over 400 retail workers are subjected to violence or abuse in the workplace every day," said BRC CEO Helen Dickinson. "These are not just statistics; these are real people who work hard for millions of customers every day. From abuse to threats to violence, those affected carry these experiences with them for a lifetime.
"The government must help put an end to the scourge of retail crime. This means a stronger police response to criminal incidents, and new legislation to introduce tougher sentences for those who assault retail workers. No one should have to go to work fearing violence or threats."
Paddy Lillis, general secretary of shop workers' union Usdaw, said: "Life on the shop floor can be tough for many shopworkers, and there is still a lot to do to protect them. We launched our 'Freedom from Fear' campaign in the face of growing concerns amongst retail staff about violence, threats and abuse. The campaign works with employers to promote respect and make shops safer for staff.
"It is high time for the government to act by providing proper penalties for those who assault workers; a simple stand-alone law that is widely recognised and understood by the public, police, CPS, the judiciary and, most importantly, criminals."
The BRC retail crime survey covers the period from 1 April 2018 to 31 March 2019 and draws on the responses of companies with almost £130bn of annual turnover (33% of the industry). The BRC, ACS, CRA and Usdaw have all called on the government to make violence against retail workers a specific criminal offence.