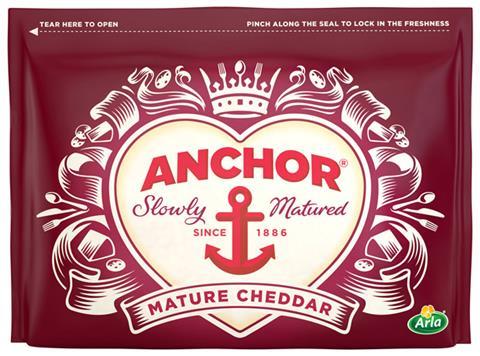 Arla is investing £9m in its packing facility at Oswestry to support the continued rollout of its Anchor Cheddar brand.
A spokeswoman for the dairy co-op said it planned to build two high-speed packing lines at Oswestry, adding "this is based on orders already placed and also to specifically support the rollout of Anchor Cheddar".
"This investment reflects our commitment to developing a cheese business for the future," she added.
Arla has been ramping up its presence in the UK cheese market since its merger with Milk Link in 2012. In April 2013, it resurrected Anchor Cheddar after a four-year absence from shelves and is targeting £50m in sales for the brand by the end of 2014, and £100m in 2017.
Arla has also been making strides in own-label cheese, winning a major Cheddar contract with Asda from rivals First Milk last autumn.
The investment in Oswestry comes as Arla this week announced a total investment of £243m across its global operations, including a new £58m lactose production facility in Denmark, which it plans to use to build up its infant nutrition businesses. "The new lactose site will produce high-quality ingredients for child nutrition products that are in high demand, especially in Asia," said Povl Krogsgaard, vice CEO of Arla Foods.
Its other investments include £14m at its Pronsfeld dairy in Germany, which exports UHT milk products to Asia and Africa; more than £10m at its German factory in Upahl to expand production of quark soft cheese; more than £7m to build a new packaging line for the Buko soft cheese brand in Denmark; and more than £4m to convert its Falkenberg dairy in Sweden to a dedicated cottage cheese dairy.
Arla increased its milk price to UK farmers by 0.74 pence per litre this week, with its 2,800 British farmer owners receiving 35.01ppl as of 3 February.