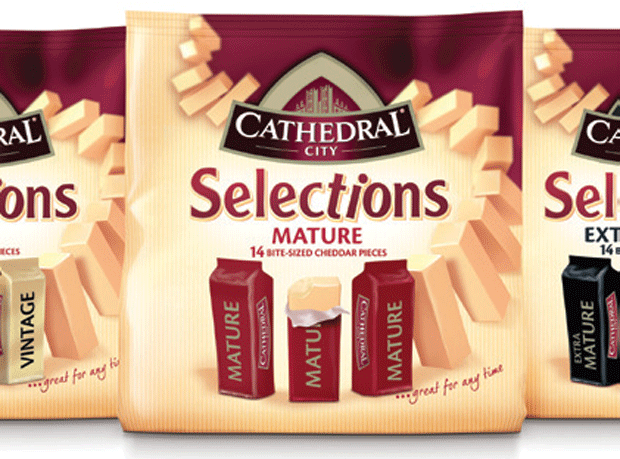 Dairy Crest has reported a strong first-half performance in its cheese business, with total sales increasing by 12% year on year and Cathedral City up by 9%, but its butters and spreads business has struggled amid a tough trading environment and high cream prices.
Operating profits in the company's cheese division reached £17.5m during the six months to 30 September, up 13% from £15.5m the previous year. Dairy Crest said it expected "a continuing strong performance" for Cathedral City in the second half of its financial year, supported by new product launches "which further widen the appeal of the brand". Among these is a move into the spreadable cheese category, planned for 2014.
"Despite the challenging environment, we have continued to grow our key brands through innovation and reduced our cost base"

Mark Allen, CEO
By contrast, its butters and spreads division saw sales fall by 12% year on year, with profits down by 39%. Its Clover brand held up well, recording a 2% increase in sales, and Country Life Spreadable had also performed "creditably", Dairy Crest said, but Country Life block butter had suffered, "mainly as a result of lower promotional activity", leading to a 17% year-on-year drop in sales.
"In addition, some retailers have reduced the amount of space they allocate to butters and spreads in their stores, and our Utterly Butterly brand has been adversely affected," the company added.
In its dairies division, sales declined by 4% year on year but profits were up 37%, thanks largely to property profits realised during the period. Sales of its Frijj milkshake brand were down by 17% year on year, because Dairy Crest decreased promotional activity during the period while it worked on increasing production capacity. Margin in the dairies division stood at 0.6%. Dairy Crest said it remained committed to delivering a 3% margin for its dairies business in the medium term.
The company also gave a brief update on its whey venture at its Davidstow plant, saying it was expected to start production during the first half of 2015.
Overall, Dairy Crest reported total group revenues of £672m, down 2% year on year, with pre-exceptional profit from continuing operations down 7% year on year to £27m.
CEO Mark Allen said the company had delivered a "steady" first half and was confident it would deliver on full-year targets. "Despite the challenging environment, we have continued to grow our key brands through innovation and reduced our cost base. We have committed to an exciting whey project which will increase future profits and widen our customer base. This is a significant move for Dairy Crest which demonstrates our focus on growing the business in added-value markets."
Reaction
Investec said Dairy Crest had delivered a good performance and increased its price target to 530p to bring the company in line with other food companies, with a recommendation to 'add'.
Jefferies described Dairy Crest's performance as "solid" and in line with expectations, with strong numbers in cheese offsetting a "soft" half for butters and spreads. "It is also pleasing to see the improved underlying profitability in Dairies despite higher milk prices and the drag of Frijj," it added.
JP Morgan Cazenove also picked out Dairy Crest's cheese division as the "stand-out performer", and said it too was encouraged by the performance of the dairies division. "The underlying performance of the dairies division was, in our opinion, good and augurs well for the ongoing ambition to restore return on sales to 3% in due course. Excluding property profits, dairies delivered a breakeven underlying result compared to an underlying loss of approximately £3m last year."
It said Dairy Crest had a strong stable of brands, which was poised for further growth. "Cathedral City is strong enough, in our opinion, to support expansion of the brand into other formats (snacking, children's cheese, spreadable cheese) and maybe even to non-Cheddar cheeses," it said, adding Dairy Crest had identified Frijj as a brand "capable of doubling its retail sales in five years".