It's been a sweet and sour year for sugar. On the one hand, Haribo continues to surge ahead, Wrigley's turnaround continues, and there are some exciting up and coming brands. On the other hand, the overall sugar confectionery category still appears to be struggling. For the second year on the trot volume sales fell, although this year's 0.2% decline was an improvement on last year's 1.3% slump [Nielsen 52 w/e 12 October].
Worryingly for brands, own label posted a strong performance, with volume sales up 3.3% - compared with a drop of 1.5% for branded items - and value sales grew 6.6%, outperforming branded growth of 3.5%.
Read The Grocer's full Top Products Survey.
Some of this increase can be attributed to the rising price of sugar confectionery products as manufacturers looked to pass on hikes in the cost of commodities such as sugar beet and gelatine. This is reflected in the overall average unit price, which rose 1.7%.
But it wasn't all doom and gloom for brands. Haribo once again impressed with its resilience, adding £15m (11%) in value sales, on volumes up 3.1%, thanks to continuing NPD, according to Herwig Vennekens, MD of Haribo UK. "Haribo started the year by introducing an extensive range of novelty sweets and exciting pack formats that catered for all Easter occasions," says Vennekens. The range - included Chirping Chicks, Leaping Lambs and Bouncing Bunnies gift boxes - was inspired by category insight, he adds. "Consumer research identified three key purchase occasions: self-treating in the run up to the event, interactive family fun through Easter hunting and the traditional novelty gifting."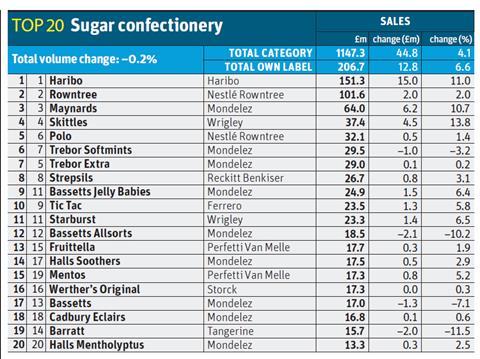 The innovation didn't stop there. Later in the year it introduced Haribo Smurfs, limited-edition makeovers of its bestselling Starmix and Tangfastics products and a new Rainbow range, which launched in July.
NPD was also the secret of success of the category's rising star Swizzels Matlow, which saw its overall value sales grow by an incredible 20%, with its Love Hearts brand enjoying value growth of 15.4% (elevating it to the number 30 spot in the bestsellers list) on volumes up 11% and the eponymous Swizzels up a staggering 225.8% in value and by a similar measure in volume. In the past 12 months, Swizzels has unveiled Vimto Drinx, Refreshers Rope and One Direction Love Hearts in hanging bags. It's also employed a pricing strategy that's paid dividends, according to Jeremy Dee, MD of Swizzels Matlow.
"Despite rising raw material costs over recent years, Swizzels Matlow has actually returned to 10p across many of the best-loved countlines in the market," says Dee. "The recession-proof range contains a host of iconic brands that were previously priced at 13p. The 10p products feature updated bold designs with the new price point clearly featured on every item."
Overall NPD contributed £47.8m within traditional candy, with Skittles Confused accounting for £3.8m, Mentos Strawberry contributing £377,000 and Tic Tac Festival adding £363,000.
"We have shaken up the pocket confectionery category with an exciting range of insights driving innovation over the past year," says Levi Boorer, customer development director at Ferrero UK. "Strawberry Fields has been highly incremental for the brand, driving an increased appeal for fruity flavours. This year also saw the launch o=f Spearmint Twist, another refreshing permanent addition to the popular Tic Tac range."
NPD also played a vital role in driving value sales of gum, with new products accounting for just under £18m. Overall value sales grew by 3.1%, with volumes down slightly (0.1%) - and seven of the top 10 gums declined in value - but the category did at least mark a significant improvement on last year's 2.4% slump in volumes.
The star of the NPD show in the gum category was Wrigley, led by Extra White Bubblemint, which accounted for £6.3m of sales. A big focus for Wrigley in the past year has been increasing frequency of use of chewing gum and volumes, says Matt Austin, European confections business unit director at Wrigley.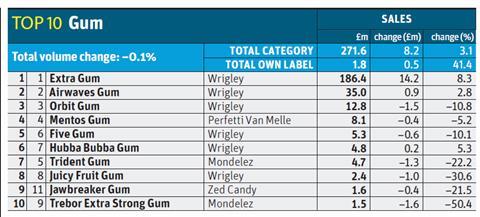 To do this, Wrigley launched its first-ever small bottle format earlier this year - 46 pellets, rather than the usual 60. The innovation helped drive not only sales - up £14.2m or 8.3% - but crucially volume too, claims Austin, by "giving consumers a convenient way to keep their teeth clean and healthy after eating and drinking. Research indicates that two out of three office workers regularly eat lunch at their desk and 70% of drivers eat and drink on the road, making the 46-pellet bottle range a must-stock for retailers."
Although Wrigley continues to dominate the gum category, own-label products enjoyed a phenomenal year with value sales up a whopping 41.4% and volumes up an equally impressive 42.2%.
As eye-catching as these figures are, it has to be said that in the gum category own label accounts for only a fraction of the total market, so it's unlikely that branded gum manufacturers are going to be quaking in their boots just yet.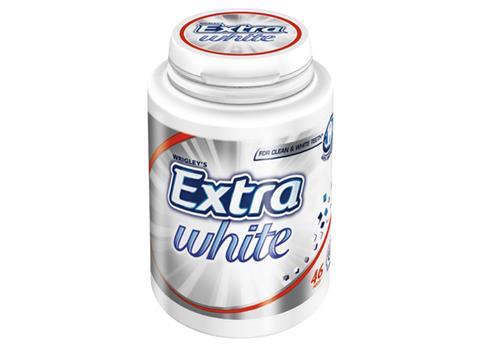 The key weapon in the armoury of the brands is their ability to invest in NPD. This focus will be carried forward into 2014, says Wrigley's Austin. "Research shows that consumers are looking for more than just taste and texture when choosing confectionery - they are looking for excitement and stimulation too, which is why Wrigley's new product development this year has offered consumers more than just taste but entertainment too," he adds.
As well as gum, he highlights the launch of Starburst Flavour Morphs (see Top Launch) and Skittles Confused as examples. This type of innovation is also top of the to-do list for Tangerine Confectionery, according to senior brand manager Sarah Brown.
"NPD is going to be a big focus for Tangerine going forward, with a growing trend for the more extreme and sour flavours playing a big part in winning over the consumer, and creating a point of difference from our competitors," says Brown. "Additionally chewy sweets such as jellies or gums continue to account for the largest proportion of NPD within the industry."
This news will no doubt be music to the ears of sweet suckers and gum chewers alike. And, just as importantly, it could also help brands to enjoy the sweet taste of success through a second consecutive year of improved volume sales.
Read The Grocer's full Top Products Survey.
Top launch: Starburst Flavour Morphs Wrigley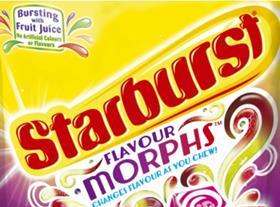 It's not just in chocolate that Willy Wonka is at work. In March, Wrigley dreamed up what it claimed was a UK first. The new Starburst Flavour Morphs, already a major hit in the US and Canada where launched in 2011, changes flavour whilst you chew, morphing from strawberry to strawberry pear, cherry to cherry lime and raspberry to raspberry pear. Flavour Morphs are sold in single stick packs (rsp 49p) and 152g sharing pouches (rsp £1.28). The launch was backed by a £3m multimedia push.