This article is part of our digital feature on free-from.
Is the free-from aisle a functional destination for the allergic and intolerant, or a missed opportunity to sell to everyone else?
The Grocer asked retail design agency M Worldwide to reimagine it. Joint managing director David Martin and his team have created a zone that explicitly communicates the health and lifestyle positives of free-from, and where advice is on hand for both the diagnosed and the dabbler.
Here's what they came up with…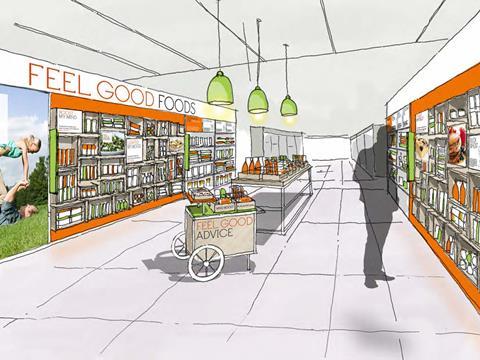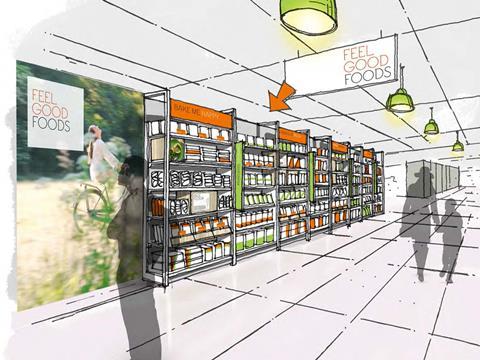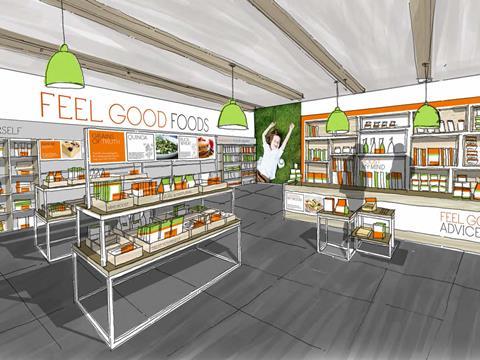 The new look aims, says David Martin, to unpack the benefits of shopping the category, something that isn't being done at present. "Unless they're buying for a medical reason, a lot of people are confused about what it is. The ambient aisle as it stands is quite ghettoised. You wouldn't go down there unless you had to."
A change of name to Feel Good Foods indicates a shift in tone as well as a broadening of the offer. "Free-from has become a header, but often 'free-from' is 'less than'," says Martin. "Feel Good Foods takes you to the end benefit, which is about health and feeling good, and the images we've used communicate that. The ultimate might be that free-from is part of a wider health food world that takes in things like sugar free and organic, a centre of excellence from a lifestyle rather than a medical point of view. It could activate these products in a more interesting way."
Activation is done using placeholders bearing information about the products and their attributes, marking out fixtures for items with benefits for heart health, alertness and mood, or specific information on specialist ingredients.
"The broader idea of free-from being a positive health choice is addressed in the way that the product is presented, the type of fixture and communications," says Martin. Colours are lively, with white space to prevent the comms getting too much. M Worldwide also suggests an in-house advice counter. "Providing expertise and knowledge about the products is an interesting idea. It's the way that pharmacy is going, with a more proactive attitude towards attaining better health."
A potential end point is for free-from options to be sold along their conventional category stablemates, as organics are now. But free-from can't move forward unless its packaging does. "In a lot of cases the packaging is dull. It's identifiable for those that have a medical need but for everybody else, where the growth is, it's just not doing it. It's not sexy enough."
In association with:

By understanding how shoppers think, feel and behave – today and in the future – M Worldwide works with leading brands to develop omnichannel brand experiences, environments, and service design that expose shoppers to a wider range of products, influence behaviours, drive sales, build loyalty, and increase advocacy and word-of-mouth.http://www.mworldwide.co.uk/