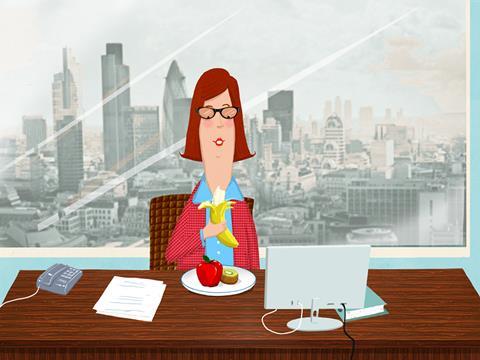 Britain is a nation of speed freaks. When it comes to breakfast, that is. Anything that involves less prep time (and a longer lie-in) hits the spot for today's time-pressed consumer – and that's particularly true during the working week. One in four Brits aren't prepared to spend any longer than two minutes making their breakfast on a weekday, found an exclusive poll of 1,882 breakfasters conducted by Harris Interactive for The Grocer. And a further 25% said their maximum prep time was three to four minutes. Not great news for the full English.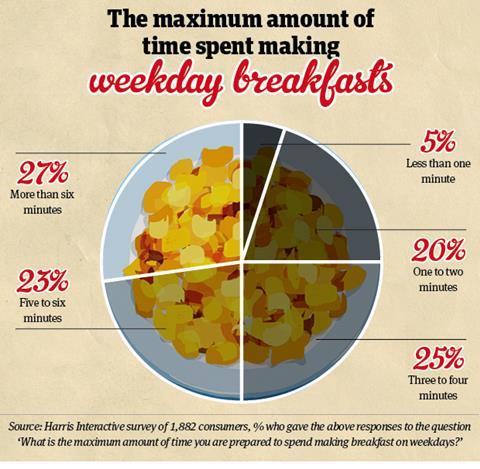 All this need for speed means today is the era of the 'deskfast'. And consumers are becoming ever pickier about what makes the grade for that ultra-convenient first meal of the day. No longer will a slightly soggy box of out-of-date cereal do. They want all the taste, variety and health benefits of a meal at the breakfast table, but at their desk instead. The trend has spawned a flurry of activity in the out of home sector that has been rapidly mirrored by the supermarkets. So who are the new wave of deskfasters, and what do they want?
At the helm of the growing deskfast movement are millennials. Kantar Worldpanel data shows the younger generation is the driving force behind out-of-home breakfast consumption in general. "Of the 263 million out-of-home breakfast occasions this year, almost 40% were eaten by 16 to 34 year olds," says analyst Charlotte Lovell. Not only that, the number of out-of-home breakfast occasions among millennials is growing fast, up 35% year-on-year [Kantar Worldpanel 52 w/e 25 March 2018]. Our Harris Interactive data shows the desk is a popular venue for these breakfasts. The 25 to 34 age group were most likely to bring their breakfast to work (23%), compared with only 11% of 45 to 55 year olds.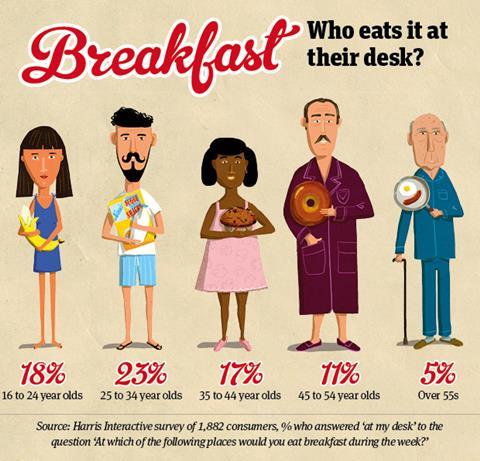 Out-of-home players have had a natural advantage when it comes to catering for these up-and-coming consumers, who crave ever more variety in their options. Coffee shops in particular have aimed to offer simple, tasty and convenient deskfast solutions on the go, from Costa's Breakfast Bloomer Toastie to Pret a Manger's range of protein pots, including Egg & Spinach and Salmon & Avocado.
And these players are constantly innovating. In July, Greggs launched mini cooked breakfasts ideal for eating at a desk. Containing beans, sausage, a cheese omelette and mini hash browns, the boxes (rsp: £2 or £1.90 for a vegetarian box, minus the sausage) are available on a trial basis in 11 branches across the North East.
Supermarkets are catching up fast. Waitrose's open kitchens – available in four branches offering delicacies to-go such as avocado on sourdough – are firmly targeted at the millennial, on-the-move crowd. NPD is also looking to tempt this busy demographic. Rustlers forayed into breakfast for the first time last April with its All Day Breakfast Sausage Muffin (rsp: £1.50), gaining listings in Co-op, Tesco and Morrisons. Ready to eat after 65 seconds in the microwave, it's well under the two-minute maximum favoured by one in four consumers.
But for the grocery market, there has been one key source of excitement in attracting the time-pressed crowd: breakfast drinks. Go back a year, and growth was indeed exciting. For the year ended 8 October 2017, sales were up 24.9% to £20m (while ready-to-eat cereals were in decline for brands). This year, however, is looking less positive. Value fell 11.1% to £18.7m [Kantar Worldpanel 52 w/e 22 April 2018]. Ouch.
Harris Interactive research is also painting a mixed picture. Somewhat encouragingly, breakfast drinks are chosen by 23% of deskfasters, rising to 32% of 18 to 24 year olds. But it still pales in comparison with the 46% choosing fruit, 44% picking yoghurt and 39% eating cereal at work. So will grocery have to find new ways of attracting the deskfaster?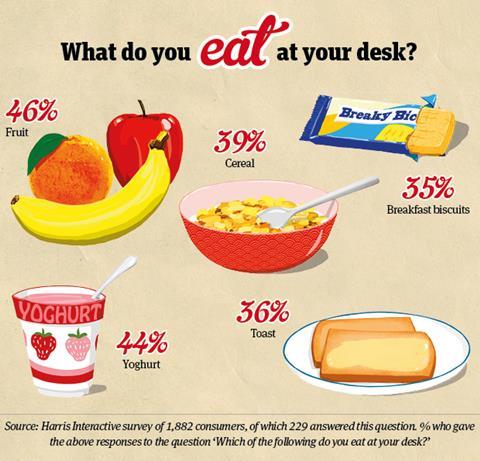 Leading breakfast drinks brand Weetabix thinks not. "The breakfast drinks sector is the most impulsive part of the cereal category," says Gavin Loftus, head of brand for Weetabix On The Go. "We're seeing rising consumer demand for breakfast drinks that deliver on both substance and taste."
One way it's hoping to attract the consumer is through health credentials. That was the focus of this year's packaging refresh for Weetabix On The Go, which introduced on-pack traffic light labelling that Loftus states will "make it easier for shoppers to make a quick, informed choice".
Other breakfast drink brands are taking a similar tack. In July, Quaker rolled out its pilot range of breakfast drinks in Vanilla and Red Berries flavours (rsp: £1.45) that looked to trade on health.­­ "Having identified that one of the barriers for people enjoying breakfast drinks is a belief they are too processed, we ensured there are flashes on pack highlighting milk and wholegrain content," says marketing manager Steph Okell.
Protein smoothie brand Savsé is another example. The brand recently expanded its cold pressed protein smoothie range to include Protein Rise (rsp: £2.99) in May, which contains quinoa flakes along with coconut milk and fruit to produce "a unique, healthy option for consumers".
They are thinking along the right lines. When asked what influences their breakfast purchases, 18% of respondents polled by Harris Interactive named high protein as an important factor. Nearly a quarter looked for low sugar and 17% wanted low calorie content (rising to 23% of 18 to 24 year olds).
Kantar Worldpanel says health is particularly important to the younger consumer. "Starting the day off right is an attractive proposition, as consumers tend to start the day with good intentions and make more indulgent choices as the day progresses," says analyst Emily Garrigan. "Millennial consumers in particular are seeking positive health benefits at breakfast, with 253 million more servings fulfilling the need for health benefits (such as protein or vitamins) this year, and 190 million more being chosen because they're more natural or less processed."
And so the past few months have seen plenty of NPD outside of breakfast drinks looking to combine convenience and health. Belvita is leading the charge among breakfast biscuits (eaten by 35% of deskfasters in our Harris Interactive poll). In July, it launched Breakfast Soft Bakes Blueberry to appeal to the 'superfood'-seeking crowd. In other formats, The Protein Ball Co introduced its first Breakfast Balls this month (see innovations below), designed to "provide a healthy energy boost that fits in with hectic lifestyles".
But perhaps the most significant NPD has come from Kellogg's, which is looking to create an entirely new category. "Ready-in-seconds" smoothie bowl brand Joyböl entered the market last month with the tagline "slow breakfast is no breakfast". The launch was inspired not only by the need for speed, but also the rise in smoothie bowl snaps on social media. "Search #SmoothieBowl on Instagram and you'll see at least 1.5 million posts appear from people sharing their food experiences," says a Joyböl spokesman. Currently only available in convenience and travel sectors, supermarket distribution is set for later this year. With health at the top of its agenda – the three-strong range of Super Berries & Acai, Strawberry Almond Quinoa and Mango & Coconut variants each claim to provide a good source of protein and fibre – it certainly seems to be tapping the right trends.
One thing is for sure: the deskfast as we know it is changing. Today's speed eaters expect the same standards at their desk as they do at their breakfast table. So wave goodbye to that soggy box of out-of-date cereal.
Creative Challenge
The fry-up needs updating for the working week. Firstly, it takes way too long to prepare for today's time-conscious consumer. Secondly, its saturated fat content isn't exactly screaming health credentials.
So we challenged media agency Starcom Worldwide to create a cooked breakfast product that could appeal to today's deskfasters. Here's what they came up with.
"The fry-up is a treat that so many Brits love, but our stomachs struggle to digest significant amounts of food in the morning," says Amy Kean, head of strategic innovation. "Some nutritionists are starting to advocate a morning fast until around midday, which has serious benefits for your gut."
Keen to find a modern solution for health-conscious, busy workers looking for energy, convenience and a familiar breakfast taste, the team created Miso Fast, a new range of soluble flavoured capsules to be dissolved in hot water.
"We wanted to combine the taste of a big British breakfast, the essential goodness of Berocca, the convenience of Pez dispensers and the health properties of miso soup," explains Kean.
Containing vitamin C, B12 and magnesium, Miso Fast capsules are available in a range of breakfast food flavours, including Streaky Bacon, Spinach Frittata and Smashed Avocado and Feta, as well as sweeter flavours such as Granola and Blueberry Pancakes.
Consumers initially purchase the capsules in reusable cork case packs, which can be refilled in a variety of flavours from Miso Fast vending machines in Waitrose and Whole Foods outlets. "Today's shoppers are looking for modern, responsible products that aren't covered in plastic or damaging to the environment in any way," states Kean. "Given the increased consumer interest in sustainability, it was important that Miso Fast packs could be reused."
The new range will be supported by a social media marketing campaign, including tie-ups with healthy eating influencers, which will target consumers with interests in wellbeing . "From a messaging perspective, we're fresh and tongue in cheek, with an 'oh what a dutiful morning' poster highlighting the goodness that comes from fasting," says Kean. "The strapline: 'wake up to what your body needs' is a more assertive statement to help shoppers reassess their breakfast habits."
Deskfast innovations
Here's our pick of the latest launches targeting the busy workforce
Oaty Quinoa Porridge
Launched: July 2018
Manufacturer: Perkier
Health brand Perkier took aim at Britain's growing number of vegan and flexitarian shoppers with its Oaty Quinoa Porridge pots (rsp: £1.30/55g), which hit Asda stores in July. Consisting of Original, Golden Syrup and Cranberry & Raisin flavours, each pot contains 10g of quinoa protein and up to 50% less sugar than leading porridge pot brands, as well as being gluten and dairy free.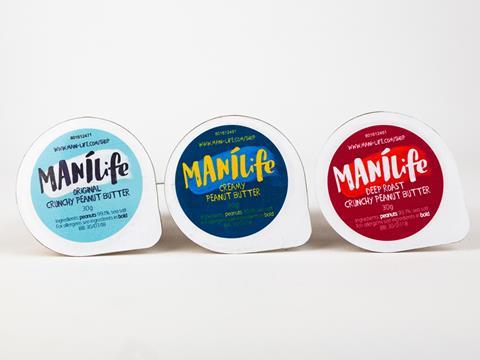 ManiLife Snack Pots
Launched: July 2018
Manufacturer: ManiLife
Targeting deskfasters who don't want to keep a 1kg tub of peanut butter at work, ManiLife created its new snack pot range (rsp: £0.55/15g). Made from Argentinian peanuts, the range is set for its UK retail debut in the coming weeks, having been initially trialled with a major hotel group. Available in Smooth, Original and Deep Roast variants, the pots are designed to be combined with a range of breakfast products including porridge, yoghurt, fruit or toast.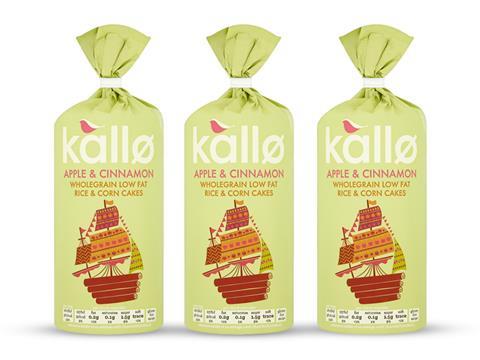 Apple and Cinnamon Rice Cakes
Launched: July 2018
Manufacturer: Wessanen UK
Containing just 32 calories, Kallø's Apple & Cinnamon rice cakes join its Blueberry & Vanilla packs (launched in June 2012) as a sweet breakfast option. The rice cakes, made using four all-natural ingredients (rice, corn, cinnamon and apple juice concentrate), are available in jumbo packs (rsp: £1.49/127g) across Waitrose stores nationwide.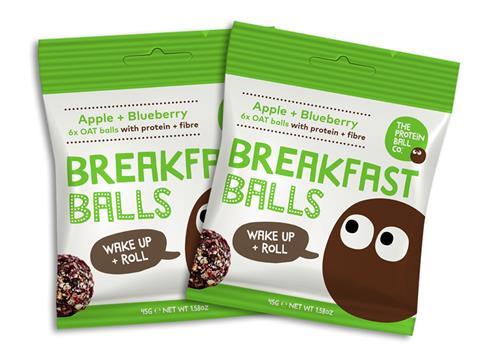 Breakfast Balls
Launched: August 2018
Manufacturer: The Protein Ball Co
New bite-sized Breakfast Balls from The Protein Ball Co launched this month in Apple & Blueberry, Hazelnut & Cacao and Strawberry & Vanilla variants. Each 45g pack (rsp: £1.99) contains six Breakfast Balls totalling 5.4g of natural protein, providing a healthy kickstart to start the day. The vegan-friendly balls are also high in fibre and gluten-free, with no added sugar and 100% natural ingredients.