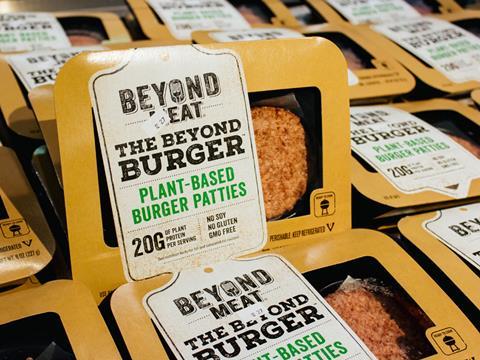 More than four in ten young adults are either worried about eating meat or have cut it out of their diets altogether, a poll conducted for The Grocer has revealed.
When asked about the environmental impact of eating meat, 38% of consumers in the 18- to 24-year old age group said they were worried about its effect.
And 4% said they were either vegetarian or vegan, found the poll of 2,036 UK adults conducted by Harris Interactive on behalf of The Grocer.
This contrasted with the older generation, who were more relaxed about eating meat. Of the 55+ age group, only 20% said they had environmental concerns.
The results coincide with the end of the most high-profile Veganuary ever, during which time supermarkets launched a range of vegan and vegetarian-friendly products.
Tesco launched its 20-strong Wicked Kitchen range at the beginning of January, including dishes such as Carrot Pastrami-Spiced Wrap; Nana's Mushroom Bolognese; Caponata Sourdough Pizza; Gunpowder Potato Chana Masala; and BBQ Butternut Macaroni with rsps between £3 and £4.
Sainsbury's also unveiled a "next-gen" plant-based range with products such as Sweet & Smokey BBQ Pulled Jackfruit and Shroomdogs, while Aldi launched a Specialbuy event on 4 January with "affordable" vegan options.
To mark Veganuary, Ocado added more than 90 own-label and branded SKUs to its vegan offer throughout the month.
But the research found consumers were not just interested in plant-based solutions, and would consider protein alternatives such as insects. Of the 18- to 24-year-olds polled, 38% said they considered insect food more environmentally sustainable than meat.