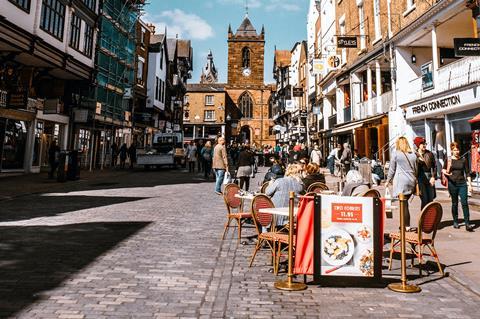 Since those frenzied early days of the pandemic, Britain's supermarket aisles have acted as a barometer for public confidence and changing consumer routines. Last March, retailers adapted almost overnight to skyrocketing demand for take-home groceries, ramping up online capacity in particular, as the nation adjusted to working from home, school closures and the start of shielding for vulnerable shoppers. Now, as the vaccine rollout continues and we all take tentative steps back to normality, will consumers shake off their lockdown habits just as rapidly?
The answer is yes and no. Year-on-year growth declined in March for the first time since the start of the pandemic, as the grocery market annualised against the weeks leading up to the first national lockdown. We're anticipating a short-term return to growth in April as we move to comparing sales against the weeks after that initial surge when everyone really restricted their time out of the home.
While restaurants, bars and cafés have reopened this month, outdoor-only dining means capacity is much restricted compared with normal times. People who – like me – failed to book a table in a beer garden many weeks ago will still be eating most meals at home for the next five weeks. Outdoor dining is also predominantly a younger person's game, and the biggest spenders at the supermarket are people with families to feed.
We will begin to see take-home alcohol sales slow this month and retailers will be looking for opportunities in health & beauty categories as people start to socialise again, but it is the return of indoor hospitality from 17 May that will be the real gear-change for grocery spending.
There are some early signs of pre-pandemic habits returning. One of the clearest indicators of our changing routines in the past year has been the re-emergence of the weekly shop. Collectively we made one billion fewer trips to the supermarket as we followed government guidance to stay at home. Now households are increasing their visits to the shops ever so slightly.
Click the expand icon to view charts full size
The welcome reopening of non-essential retail, coinciding with the Easter holidays and some spring sunshine, has enticed people back to high streets. This footfall fuels smaller top-up shops, benefiting grocery stores in central locations, as well as sales of on-the-go food and drink.
People are also growing more confident. Older consumers have modified their behaviour the most in the past year and, as 34% of them shopped online for groceries during the pandemic, they helped push digital sales to a record 15.4% share in February.
In March, however, we saw a shift. Shoppers over 65 were largely vaccinated and increased their visits to bricks-and-mortar stores more than any other age group. The question remains whether young shoppers will follow them, but what is certain is that the current year-on-year online grocery growth rates are unsustainable, and we will soon annualise against the 2020 ramp up in sales.
When considering what lies ahead, it's probably time to forget about 'normal'. The pandemic will leave most people dealing with new emotional, financial and health realities. For retailers, that will mean catering to two diverging customer groups.
First are those who have retained their incomes and possibly saved money. They are likely to resume their pre-pandemic lifestyles more quickly – enjoying meals out and buying treats from the supermarkets to entertain friends and family and hold belated celebrations.
But there is another group that is perhaps already struggling or will soon feel the effect of the economic downturn. Those people will rely on traditional methods of cutting back their spending – looking out for deals, buying cheaper brands and own label, and weighing up a less-expensive alternative to their regular supermarket.
Retailers and suppliers will have to tread a fine line to serve both these cohorts effectively as they take quite different routes out of lockdown.