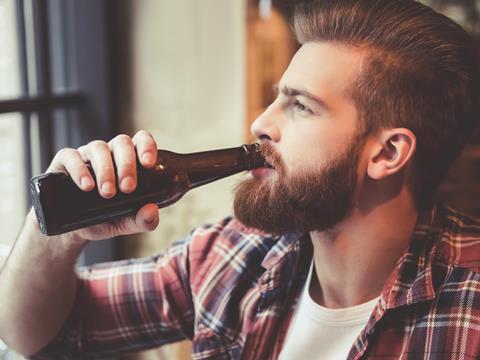 Brits guzzled a record 18.2 million litres of low and non-alcoholic beer this year, while sales of super-strength brews fell into a major decline.
Value sales of low and non-alcoholic brews grew by £5.9m (20.5%) to £34.7m over the past 12 months, with volumes up 16.8% – the highest growth in five years, latest figures reveal [Nielsen 52 w/e 15 July 2017].
Meanwhile, sales of super-strength beer (above 7.5% abv) were down £8.9m (11.6%) to £68m, on volumes down 12% – a signal that, despite low and non-alcoholic beers accounting for just 0.9% of total beer sales, the balance had "tipped in favour of moderation products", said Nielsen analyst Richard Harrison.
It was "a positive step for the brewing industry and the government and councils who have sought to discourage the sale of high-strength lagers," he added.
The news comes as around one in five adults now claim to be teetotal [Nielsen]. Mainstream and craft beer brands have launched a raft of zero-alcohol lines since the start of 2017.
Heineken launched 0.0, a booze-free variant of its eponymous lager in March. It has racked up £1.1m in sales, picking up listings in Tesco, Sainsbury's and Morrisons [Nielsen 52 w/e 29 July 2017].
Scottish brewer Innis & Gunn moved to cash in on a growing number of shoppers partaking in 'Dry January', rolling out 0.0% Innis & None days after Christmas.
Beck's Blue-owner AB InBev has hinted at a further move into non-alcoholic beers, citing the UK market as "an exciting space", last year.
Carlsberg, too, has highlighted non-alcoholic beer as a key focus, and aims to double the distribution of booze-free brews by 2022 as part of its Together Towards Zero programme.
Sales of BrewDog's Nanny State non-alcoholic ale rose £1.3m to £2m over the past year [Nielsen 52 w/e 15 July 2017].