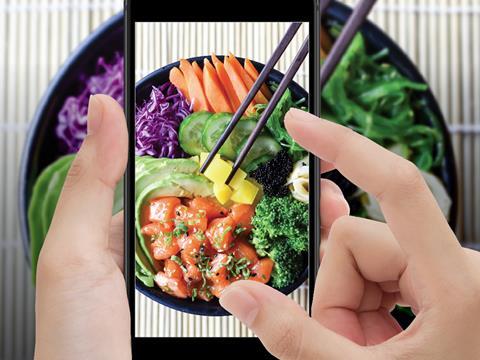 Not all trends were born equal. Some are here, gone and deleted on Instagram before you can utter Unicorn Freakshake. Others have a little more staying power.
Once upon a time itamaes prepping California rolls in every high street chain and supermarket would have been unthinkable. Now sashimi and tuna nigiri are nearly as ubiquitous across food-to-go counters as a cheese salad sandwich after a meteoric rise from high-end restaurants to casual dining chains and finally the mults.
The same goes for the mass adoption of plant-based food. What was once confined to soggy chickpea burgers sold at Soho food markets for £10 is now a booming sector expected to hit $5.2bn in global sales by 2020.
But if what separates the fad from the future of food - or the sriracha lollipop from the soya milk - is undeniably up to consumer preference, who dreams up the trends to be trialled in the first place?
It categorically isn't the supermarkets, says Emily Turner, assistant brand manager at All About Food. "Retailers will always be chasers." Instead, NPD and new trends almost invariably come from restaurants and then "filter into retail".
The reasons are twofold. For one, consumers are more likely to be experimental with flavours, ingredients and formats when eating out. This promiscuity and willingness to try new cuisines out and about might have caused some of the challenges facing the casual dining sector, according to Deloitte, but it has also created a far more fertile breeding ground for new trends.
Then there is the fact that experimentation relies on small trials, while the multiples deal exclusively in volume, adds Nathan Mcgivern, brand and retail manager at Flava People. "If Tesco do a range review once a year they're not going to put in products that are innovative, aimed at a smaller audience, and try to grow it as it's not going to sell in the volumes they'll accept. It has to transition all the way up the chain to national appeal for retailers to get enough sales and buy into it."
So retail keeps one eye firmly on the restaurant scene for inspiration. But where does it look? After all, "you can't look at the eating out sector as a homogeneous blob, just as you can't look at the multiples and say they all do the same thing in the same way", says Hamish Renton, managing director of HRA Global.
Three trends touted as the next big thing…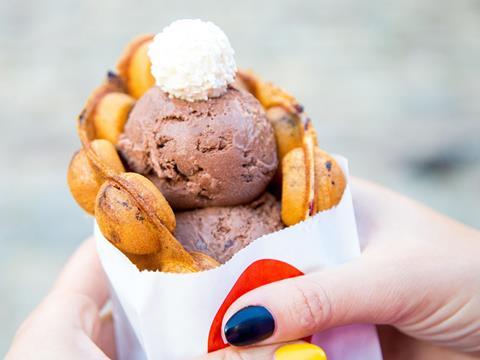 Photogenic foods
From the Hong Kong bubble waffle (above) to freakshakes and pink matcha lattes, the omnipotency of social media has seen style coveted over substance in the pursuit of the perfect Instagram shot. So important is this to millennials that 30% say they'd actively avoid a restaurant if their Instagram presence was 'weak', according to a survey by Zizzi in 2017, with the average 18 to 35-year-old spending five days per year browsing food images on social media. For them, what's on the outside counts.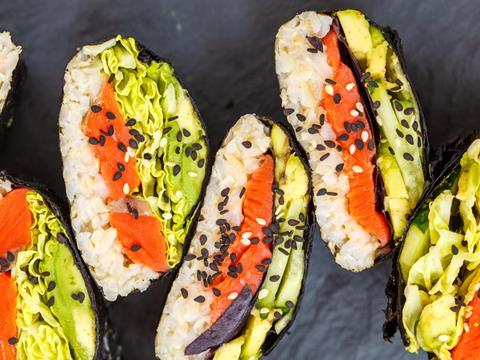 Expert world cuisine
Brits may be familiar with many flagship dishes of Asian, Italian or Mexican cuisine, but there is now an increasing desire to diversify and offer regional specialities too, according to MCA Insight. As well as serving sushi an emerging number of London restaurants are offering Japanese poke and onigirazu (above) too. Or rather than simply Tex Mex and burritos, more and more specialist South American outlets are adding in tacos or pastor, while the likes of Dishoom and Kricket play with differentiated Indian dishes.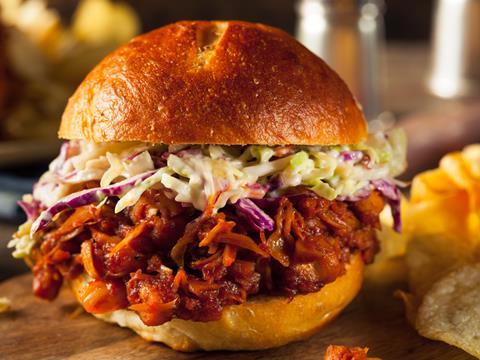 'Meaty' alternatives
With the explosion in plant-based eating led by flexitarians still partial to a steak or two, the race to develop the 'meatiest' meat alternative is on. In the US Impossible Foods now sells its 'bleeding' burger into more than 1,000 foodservice outlets while rival Beyond Meat has targeted retail, selling its yellow pea and beets burger at Whole Foods Market. Meanwhile, a handful of international startups are experimenting in labs to create the world's first commercial meat product that doesn't require any animal slaughter.
For Renton contemporary fast food - the likes of Itsu, Leon or Pret - are "the canaries in the mine" when it comes to trends, with Leon experimenting with ­alternative proteins across its menu and new Asian ­flavours, while Pret opened its first vegetarian branch in 2016, at least a year before the plant-based trend gained traction in the mults. "Retailers see contemporary fast food as the bleeding edge, see how it works there and look to replicate in store. That's a really ­obvious area of interplay."
Independent coffee shops are another area. "If you look at the explosion of independents in the coffee sector that's where the real action is, while Costa is probably a year or two behind the indies and leaving the cutting edge stuff to others. The supermarkets are then a little behind Costa."
But for Mcgivern this is giving high street names too much credit. "For us it's not the restaurant scene, it's the street food scene where trends begin. If you look at the way restaurants are moving now, with the big chains dying off, the reason is they're starting to do what the retailers do - get a trend and popularise it and make it not what it is. If you look at street food, that's where you'll see all the emerging trends."
He points to the recent explosion of Southeast Asian cuisines. At least five years ago street food vendors were selling fragrant steamed Asian dumplings and Korean bibimbap, which in retail "have only just started to come through". This Christmas past supermarket ranges were full of nibbles like gyoza, prawns and Japanese-inspired dishes, "all things that originated in street food".
Low prices at street food markets create the opportunity for consumers to cheaply mix and match dishes from new cuisines without the risk of splashing out on a £40 dish, he adds. "Street food grew at the level it did as you could try five or six different things on a menu, and if you didn't like them you'd only spent a fiver."
Then there's the arrival of a brand new trendsetter on the block. One that has accrued rapid power: social media. "Retailers have to keep up with what people are experiencing out and about and through social media," says Kelly McKnight, head of culture & trends at Join the Dots. "If we see a trend in our Instagram feed, it's that social proofing - everybody is trying this, why aren't I?"
Again the restaurant and QSR sector has cottoned on first, with new arrivals to the high street designing food and interiors around the perfect shot, flower-adorned walls and pink matcha lattes leading to queues at the doors of London's new Elan Café. Now forward-thinking retailers are making moves. "Food is being designed for Instagram and retailers are much more aware they have to design food that looks great on the plate and is 'Instagrammable'," adds McKnight.
Making the transition
So embedded is this journey of a trend from its grassroots on social platforms or street food markets to the restaurant and casual dining sector, before reaching retail, that even brands with aspirations to sit on grocery shelves will target the eating out market first.
"It was a strategic decision," says Howard Wong, founder of mochi ice cream brand Little Moons. "We always had end game aspirations to be a grocery brand but it's so much easier to start supplying a few restaurants as you don't need to brand and people are much more open to new ideas."
It worked too. Three to four years of selling into restaurants, the product found itself face to face with a Whole Foods Market buyer who was "notoriously hard to get through to but came straight back to us as he'd seen us in restaurants".
Not that the transition always works. Too often brands "bastardise trends" when attempting to fit into their retail range, believes Mcgivern, citing the sriracha-flavoured ketchup launched by Heinz in 2015 as one example. "It didn't taste or look like sriracha, it was just a hot sauce. But they thought if they made it mild enough, everyone would buy it. It goes through a value chain of 12 people to get signed off and halfway through it's not the product that was first shown."
Korean is another trend that didn't successfully make the leap. "It was really big in the food scene two years ago but then launched in a couple of retailers and kind of died a death. People didn't know what it was."
Trends transition best when retailers can "take out the hassle but it still ends up being a high-quality product", adds McKnight. Ideally it will tap into wider macro trends, she adds, such as plant-based eating, which draws from growing concerns around ethics, the environment and health. To distinguish a fad from a meaningful addition to retail takes rigorous research.
"Retailers have good people working in development, but a real caution over what might be a fad"
"People get panicked that they need to be on top of things but many flare up and disappear quite quickly," she adds. "Retailers have good people working in food development but a real caution over what might be a fad. Is this going to die off tomorrow, or never leave London? They're never quite sure. They need to see how established the trend will be before they jump on it."
For Renton though, supermarket buyers overwhelmed with cost pressures, larger areas of responsibility and fewer suppliers are at risk of missing out on the next big thing. "It's tougher than it used to be," he says. "Buyers want to do the creative stuff, they want to do the chef days and the discovery tours, but they can't because there's so much admin. They'll get fired if their subcategory margin is off the pace and it takes so much time to get that right that it doesn't leave much time.
"It's a function of the sector struggling with profitability, reducing head office numbers and putting time pressure on suppliers. It's still the same game but more managerial than creative. Some of the flair has gone from retail. Whisper it quietly but it's gone from suppliers as well. Which has created the space for where is that flair? Where is that innovation?" And the opportunity for trendsetters from QSR to street food to social to set the agenda.
Five QSR trendsetters to watch*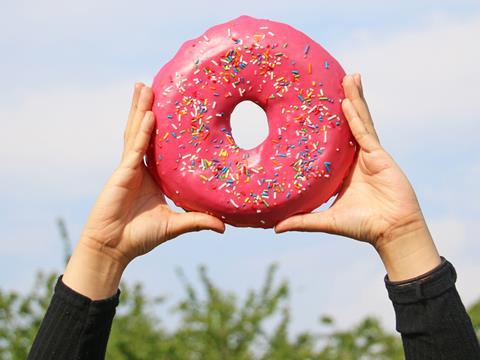 Doughnut Time: Opened in late 2017 and now with three London branches, Doughnut Time screams indulgent and 'Instagrammable'. Each doughnut is glazed and decorated with 'pop culture-inspired' names, fillings and toppings.
What the Pitta: With vegan doner kebab using spiced soya pieces, Camden-based What the Pitta clearly taps into the plant-based trend but also reflects a growing appetite for specialised world cuisine offering Turkish pizza (lahmacun) and takes its serving cues from street food too.

On the Dak: Korean has struggled to transition to retail but the cuisine is still growing in foodservice with this Covent Garden outlet offering specialist Korean comfort food, exclusively focused on poultry.

Sano To Go: The ultra healthy grab and go offer at Sano To Go in Holborn also includes a cooking school and a centre for culinary medicine, alongside the likes of aubergine and butternut squash tagine and grilled salmon and beetroot in lunch pots and egg and potato tortilla for breakfast.

Smoking Goat: Casual late night dining concept Smoking Goat takes its inspiration straight from Bangkok with sharing platters of Thai food, and a focus on goat meat - traditionally shunned by the mainstream but now gaining traction for its sustainable credentials.

* Source: MCA Insight