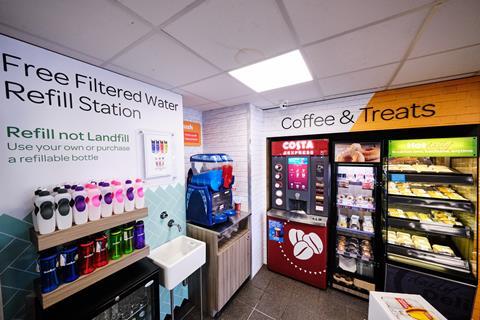 AF Blakemore has become the first convenience retailer to join the Refill campaign in the fight against plastic.
The company has registered 68 of its Blakemore Retail Spar convenience stores on the Refill app, which enables people to search for places where they can fill up water bottles for free.

The app is run by plastic pollution campaigning organisation City to Sea, and allows users to find a local refill station and get fresh drinking water on the go, eliminating the need to purchase a new plastic bottle.
The family owned Spar wholesaler is also driving new initiatives across its independent retail estate to aid a reduction in plastic bottle usage.

The company helped retailers Rachael Hockmeyer and Christian Slingsby to introduce a free filtered water refill station at their store in Sleaford, Lincolnshire, when they carried out a refurbishment.

"We are delighted to be partnering with City to Sea and their Refill campaign to help promote refillable services at our Spar stores," said Blakemore Retail MD Matt Teague, "Our customers tell us that they are concerned about their plastic consumption, and so as a business we are committed to implementing changes to help them reduce it. This is a great initiative that will enable people to save money and cut down on plastic pollution."